Dream Weaver, Moocher, Week Knees and I, Featheredprop, found ourselves once more joined for a hike.  This time, we would march from beautiful Harpers Ferry, West Virginia, to the proudly Confederate town of Front Royal, Virginia.  We would again climb the hills, descend the rocks, battle the elements or each other, and walk the occasional level places of the great Appalachian Trail.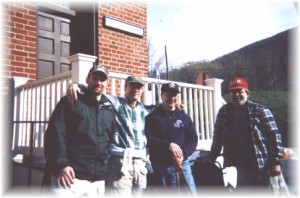 (left to right)
Featheredprop – one propeller turned into the wind
Dream Weaver – one dream at a time
Moocher – one less thing to bring
Week Knees – one week of walk in those knees
Sunday, April 7, 2002
If the success of a journey were judged by its first few steps, then we should have been too frightened to leave on our trip this day.  Fortunately, this unwitting group is a mite too dull to entertain such superstitions.  For, we plunged headlong into our adventure while ignoring a most dubious beginning.    It was time to leave and the gang was prepared and waiting in my driveway, while I hurriedly threw things together.  We left but I needed to return to my apartment to gather some additional belongings.  Still, I had a nagging sense that I had forgotten something important.  Indeed I had – my hiking boots.  So we returned again and departed a third time.  It was not until much later that I discovered I did not have my camera, a notepad to record our adventures or even sufficient food supplies.  Luckily for me we found a grocer in Front Royal able to supply these essentials.
The drive from Western Pennsylvania to Northern Virginia was uneventful.  While traveling, we recounted our previous Appalachian Trail adventures and recalled the various moments of fright, pain and enlightenment that now beckoned us to return.  Our travel together was marked with fluid laughter and an undaunted spirit.
Peg, Tessa and the Warren Charge
5:00 PM – We pulled into the driveway of the Warren Charge parsonage, located in Front Royal.  Though we would spend relatively little time here, this would be our home base.  We were greeted by the Rev. Peg Mitchell and her daughter, Tessa.  Peg would open not just her house, but her heart as well.  We introduced ourselves to her as the four men who came seeking someone to provide a place to stay and a ride to Harpers Ferry on the morrow.  A lot to ask of a stranger.  But Peg did not remain a stranger to us.  After we pitched our tents in her backyard, she showed us into the living room and offered us the comforts of her own home.
"… our hike began not in the woods, but here in this tiny living room …"
Soon, friendly members of the Warren Charge began to arrive for their Sunday night Bible Study.  We met Chuck, Doug & Mary Jo, Buddy & Nancy and Rob & Laura.  Each greeted us with the same enthusiasm and generosity of their pastor.  I noted in my journal that evening that our hike began not in the woods, but here in this tiny living room where we were surrounded with kindness and sincerity.
When the group was assembled, we moved to the dining room.  Once all were seated about the table, Peg took bread, gave thanks, broke it and shared it with us.  She then took the cup, gave thanks and passed it to all.  It was a humble, reverent moment that became a blessing to all of us.  We then feasted together on turkey sandwiches and homemade chicken corn chowder soup that Peg had taken great care in preparing.
After dinner, we moved again to the living room where we were invited to take part in Bible Study.  After our Bibles were closed, we had a time of worship and prayer.  When finished, we opened our eyes and lifted our heads, feeling wonderfully knit into this small group.  Week Knees confessed that he could not shake the notion that everyone in the room was strangely familiar to him, as if he had already known them.  I believe that breaking bread together has this effect – an effect that we would come to experience once more on the Trail.
Monday, April 8, 2002
Steep Mountains and a Man Called Buckeye
 7:00 AM – We crawled out of our tents pitched in Peg's backyard and began to pack our things.  Peg invited us inside for breakfast.  This was totally unexpected.  So, with much gratitude, we sat down to a hearty breakfast of eggs, sausage, fried potatoes and bagels.  We then climbed in my van and set out north to Harpers Ferry, with Peg giving up her day off to ride along.
9:20 AM – Standing on the cobblestone streets of Harpers Ferry, we gathered our packs and expressed once more our gratitude toward Peg.  She then led us in prayer and took my van back to her home in Front Royal.  It would be our job to walk back and get it.
Harpers Ferry is an absolutely beautiful town.  It is rich in both history and mountainous glory.  When it was settled in 1733, the Shenandoah and Potomac Rivers provided the small town with a natural place on the map.  This confluence eventually attracted the B & O Railroad. It did not, however, survive well from the ravages of the Civil War or the infamous John Brown Raid.  But a congressional act in 1944 brought it back from ruins and established it as a National Park.  My love for backpacking was recognized first in this town, not too many years ago, and so it will always have a special place in my heart.  While walking along its streets, we looked into the colonial-styled shops and felt as though we had stepped back in time.  Centuries-old merchandise and artifacts unearthed during the town's restoration are displayed in the shop windows.  Even the air tasted of antiquity.
The Appalachian Trail courses right through Harpers Ferry.  Dream Weaver knew his way and led us through the streets.  We came to a stone stairway that led us upward to a point above town known as Jefferson Rock.  From this place both rivers can be seen in their majesty.  Thomas Jefferson, taken by the view, recorded his thoughts in 1783:
On your right comes up the Shenandoah, having ranged along the foot of the mountain a hundred miles to seek a vent.  On your left approaches the Potomac, in quest of a passage also.  In the moment of their junction they rush together against the mountain, rend it asunder, and pass off to the sea… this scene is worth a voyage across the Atlantic.
10:15 AM, 54 degrees – We stopped for our first break.  The climb out of town was long and steep.  But we were all feeling good.  We did not pause too long since the cool wind caused us to quickly chill.  There was still much more mountain ahead of us.
11:25 AM – I had moved ahead of the group and came to rest near the top of the mountain and the edge of Harpers Ferry National Park.  I removed my undershirt to exchange it for a dry one.  With the sun peeking out, I hung my wet shirt out to dry on a tree branch.  While I was catching up on my journal, my friends joined me and we decided to have lunch at this place.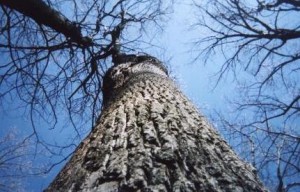 "The clear blue sky provided us with a cheery canopy to meander beneath."
Soon afterward, a man from Georgia and his 18-year-old daughter approached us.  They were day hiking and were only trying to reach the West Virginia/Virginia line.  He and I examined Dream Weaver's map and found that we were standing at the very juncture of the two states.  Pleased that they had reached the state line, they wished us luck and turned around to go back down the mountain.
After lunch, we turned south and continued our walk along the Trail.  The forest here still reflected its winter cloak, though bits and pieces of spring's garment were beginning to show.  The path soon leveled off and became much easier to walk.  The clear blue sky provided us with a cheery canopy to meander beneath.
2:57 PM, 60 degrees – I stopped at a log to get a drink from the water I carried and to catch up on my writing.  I noticed that the wind was now blowing warmly.  My outer fleece had long ago been placed in my pack and I was truly enjoying this lovely walk.  Moocher soon caught up to me and we sat together until Week Knees and Dream Weaver came along.  Together we then moved on through this colorful world, always expectant, and never being disappointed by what we saw and felt.
Moving ahead of the group, I was later overtaken by a young man and woman.  They were day hiking without packs and moving rapidly.  They greeted me and said my companions were only about ½ mile behind.  As they kept going, I could hear them merrily chattering together.
4:05 PM – I reached David Lesser Shelter.  What a nice shelter for our first night on the Trail.  It was large, clean and had a bench and patio.  It also had a nearby pavilion with a porch swing!  I could hardly imagine a better way to ease tired feet than to swing gently to and fro in the cool Appalachian breeze.  While I took advantage of this luxury, the fast-paced couple who had passed me earlier came back along the Trail.
They stopped to talk a bit and said they were heading back to their car.  They wanted to see how far out they could get in the little daylight left.  I wished them well and watched them set off.
4:50 PM – My friends arrived into camp.  We exchanged stories and relaxed in the comfort of a beautiful shelter.  Dream Weaver quickly found the porch swing and made good use of its lazy benefits.
We unpacked our things and set out our bedrolls.  As we were preparing to walk down the hill to the nearby spring, a tall, grey-bearded gentleman strolled into camp.  He called himself Buckeye.  He was a 61-year-old man, retired from real estate ventures, who had planned to thru-hike the Appalachian Trail.  His trip had begun just 10 days before in Caledonia, Pennsylvania.  His intentions were to hike south to Georgia and then return to Pennsylvania where he would continue by moving north to Maine.  As his trail name would suggest, he was from our neighboring state of Ohio.
Buckeye was a good-natured, talkative gentleman who spoke with a smile and continually encouraged our humor.  We could not imagine in those first few minutes of formal introductions the affections that would grow between our newfound friend and us during the coming week.
Buckeye followed us to the spring and we all gathered water for the evening.  We then returned to the shelter for supper.  Though bread was not broken with the same ritual as in the parsonage the night before, the sharing of a meal in the David Lesser Shelter made way for a bond to develop with our new friend.
Night came upon us quickly.  Buckeye pulled out a short rope with four small flags, representing the United States, and Ohio, North Dakota and Alaska – states where he had lived or worked.  Most nights of the coming week, we would sleep beneath those colors.  We talked well into the evening and when morning dawned, we would not remember nor care who had the final word of the day.
Tuesday, April 9, 2002
Greasy Burgers and a Mountain Oasis
 7:00 AM, 55 degrees – We awoke to a comfortable morning.  The wind was blowing slightly, but not too coldly.  Breakfast was pulled from our packs and enjoyed on the patio.  We took our time getting things together and didn't leave camp until almost 9 AM.  Buckeye wanted to stay behind to do some journaling.  He said that he would probably see us that night at the next shelter.
The weather warmed up nicely and we soon removed our outer shirts and jackets.  Anxious to find a scenic overlook, I detoured off the Trail on an unnamed hill, where I thought I might find one.  My friends stayed behind, not wishing to expend unnecessary energy.  The view was nice, but mostly obscured by the young trees growing up from below the rocks where I stood.  When I returned to the Trail, I found my companions had already moved on.  I was not disturbed, since I enjoy walking alone.  The going was relatively easy, and with favorable weather it was quite a morning to be in the woods.  I soon caught up to Week Knees and Dream Weaver, Moocher having moved on ahead.  I walked with my two friends for a spell.  Dream Weaver and I got into a lively conversation over a great book written by the late Henri Nouwen, "The Return of the Prodigal Son."  Dream Weaver lent some great insight and I made a mental note to preach on the subject someday soon.
We talked as long as our paces meshed.  But soon I left them and moved through the woods until I caught up to Moocher.  We found a view off the west side of the Trail and took a couple of photos there.  From the height, I checked my cell phone for an update on a parishioner and learned her surgery had been rescheduled for the following day.  More prayers were lifted for her.
Moocher and I continued south, finding our own paces.  He enjoys, as I do, walking in solitude and so neither of us was offended to be left alone by the other.  As I moved ahead, I walked through some very wonderful sections of forest.  Even though one might think that a forest is a forest and it all looks the same, each turn of the trail I find brings new sights and sounds.  Here in the woods is found a special place.  A place that yields uniquely to all who in earnest seek.  Henry David Thoreau had a keen sense of this understanding as he observed:
I went to the woods because I wished to live deliberately, to front only the essential facts of life, and see if I could not learn what it had to teach, and not, when I came to die, discover that I had not lived.
 By late morning my walk led me into an area that I can only describe as a Tree Cemetery.  Here the forest floor was strewn with giant trees now in their final resting place.  What struck me most was that the trees seemed to all be in the same general state of decay.  It was as if one day they altogether suddenly fell.  Or, like great whales they without explanation flung themselves onto this moss-covered, earthen beach.  It was not a frightful scene, yet it had for me an air of sadness.  As I sat down upon a sun-worn log to view the scene, I noted the time was nearing noon and so I made a decision to eat lunch here in the Cemetery.  As I did, the wind picked up and a tree near me began to groan as it swayed back and forth.  As I listened, it sounded to me like a bawling calf who, standing over its mother, could not understand why the old cow would not get up.  I did not know how to help it.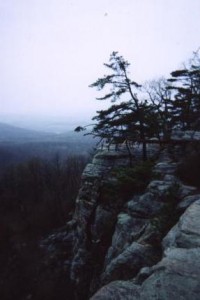 "I … took a picture of a pine tree gripping the rocks of the small cliff."
12:20 PM – I finished lunch and continued moving south.  Soon, raindrops began to fall, and I noticed the temperature beginning to drop.  After about ten minutes, the rain fell more heavily and I put a waterproof cover over my backpack.  I carry a sleeping bag made of goose down.  It is lighter than synthetic bags and is said to be a warmer bag.  However, if it becomes wet, the bag loses its ability to insulate.  Therefore, it is extremely important to keep it dry.  I, on the other hand, didn't mind getting wet, so I did not get out my rain gear.
2:00 PM – I reached a very nice overview along the Trail.  It wasn't terribly high, but its sheer drop made it exciting to see.  The rain was falling in sheets now, and the wind on top of the hill seemed much stronger.  I put on my waterproof jacket and took a picture of a pine tree gripping the rocks of the small cliff.  I did not spend too much time at the cliff because of my exposure to the weather.
2:30 PM – I reached Virginia Rt. 7.  Here, the Appalachian Trail crosses the highway and re-enters the woods on the opposite side.  A large sign posted by the Potomac Appalachian Trail Club at the Trail's egress from the woods provided good directions for finding the path on the other side of Rt. 7.  But the bottom of the sign is what really caught my eye.  It listed directions to the Horseshoe Bend Restaurant/Bar.  Suddenly, I had visions of a fish sandwich, French fries or another delicacy not normally found along the Trail.  I quickly came up with enough reasons as to why I deserved to eat in a restaurant and so I left the woods.
I reached the Horseshoe Bend Bar after a ¼ mile walk.  I put down my wet backpack outside the door and stepped inside.  Three patrons, all dressed in flannel, were sitting at the bar and turned to see me walk in, dripping wet.  A thin bar maid with a friendly smile was working behind the beer taps.  She must have known I was a hiker and what I was here for because she met me halfway across the bar floor with a menu.  I scanned it quickly and, not finding a fish sandwich, settled happily for a hamburger and fries.  I then sat down near the window where I could keep an eye on my backpack outside.  A puddle of water soon formed beneath my chair.
The interior was busily decorated and it seemed like a friendly establishment.  One of the patrons at the bar asked me about the weather outside.  I took this not as a sign of his inability to see for himself, but as a way to greet me.  I responded with indisputable honesty and felt more relaxed because of his kind gesture.  Soon my order was served.   The hamburger was so greasy that the bun began to disintegrate as I handled it.  It had two very thick slices of tomato, a chunk of lettuce and a few onion rings.  The fries were piled high, making it difficult to find the plate.  The anticipation had been prodding my hunger and I was ready to dig in.  But first I asked a blessing over my meal and then for my three friends who, if they were to know where I was, would from the woods send a chill down the backs of the three flannelled patrons with their cries of outrage.
3:20 PM – I left The Horseshoe Bend Bar and returned in a light drizzle back to the Appalachian Trail near Rt. 7.  As I approached, I found Moocher waiting.  He had moved ahead of the other two and was now waiting for them to catch up before crossing the road.  He expressed some surprise to see me, and I felt obliged to explain where I had just been.  I don't think he believed me at first.  But as Dream Weaver and Week Knees arrived, I insisted upon the reality of the Horseshoe Bend Bar and encouraged them to visit it for themselves.  They did and my conscience felt better.
While my companions were discovering the ornate beauty of the local tavern, I continued south on the Trail.  This led up over a very steep hill to an area known as Bear's Den Rocks.  The view was obscured by low clouds and rain.  I didn't tarry long here but moved on to our "camp" for the night.
In every state along the Appalachian Trail hostels can be found.  Most of these are owned by the Appalachian Youth Association and are operated by resident managers.  They generally provide an inexpensive place to sleep in dorm-styled rooms.  Guests often have kitchen privileges and access to laundry facilities and community living rooms.  In exchange for a reasonably priced place to stay, guests are required to do their own dishes, make their beds and perform other duties that are sometimes posted on a "chore list."  Some hostels are untidy, rugged dwellings while others are like the place I was now beholding.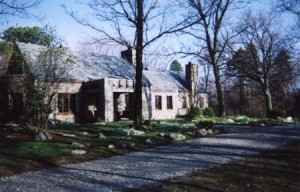 "… a beautiful stone house built in the early 1900s"
Bear's Den Hostel is a beautiful stone house, built in the early 1900s.  It was a summer home of a prominent Washington, D.C., doctor.  An especially large living room was built for his wife, an opera singer, to perform in for guests.  They enjoyed the home until their passing in around 1950.  The home had changed hands several times since then, and was eventually bought by the Potomac Appalachian Trail Club.  Since the 1980s, it has served as a hostel to hikers, vacationers or anyone who happens to stumble upon it.
4:40 PM – The hostel would not open for another twenty minutes so I sat down on the covered porch to escape the rain.  I caught up on my journal while I waited.  At five o'clock on the button, I opened the door and stepped in.  Loretta, a.k.a. Dusty, was sitting on a sofa in the community room in front of a crackling fire, as if she were expecting company.  She bid me enter and I made my way to the fireplace to dry and warm myself.  Soon, her husband, Ray, a.k.a. Skipper, came in.  These were the hosts of the hostel.  As we talked, I learned that they had thru-hiked the Appalachian Trail in 2001 and had stayed at the hostel during their hike.  They knew Johnny-Look-See and Flagman, whom I had met last year on the Trail.  Skipper and Dusty had fallen in love with the hostel, and while returning to their home in Alabama, stopped back in and expressed their strong interest in taking over should the need arise.  Not long afterwards, the previous manager decided to retire and took them up on their offer.  Just six weeks before my visit, they had moved in and begun operations.  Skipper and Dusty seemed pretty excited about being there.  I was too.
"We felt like distinguished guests in a king's palace …"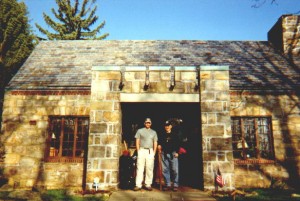 Within the hour, my companions arrived from their visit at the Horseshoe Bend Bar.  They came in and unloaded their packs and I introduced them to our hosts.  We then moved into the dorm room and each of us selected a bunk.  Even though we had only been on the Trail for two days, we decided to do our laundry.  The hostel provided some funky clothes to wear while waiting for the laundry.  We lounged in oversized sweatpants and sweatshirts for most of the evening.
Buckeye came in out of the rain next.  He also took a bunk in the dorm room and made himself at home.  We took turns showering and then wandered into the spacious living room where we reclined on overstuffed couches.  We felt like distinguished guests in a king's palace and joked about how hard this backpacking life really was.
Also staying at the hostel were Bob and his wife, Connie, from Detroit, Michigan.  They were vacationing in nearby Washington, D.C., and spending their evenings at the hostel.  They shared pleasant stories with us in the living room.  Before the night was over, two young ladies also arrived.  Buckeye spent some time with them and learned they were on a cross-country road trip and were in need of an inexpensive place to stay.
Sometime around 9:30 PM, we retired to our room.  At about this time, Ed arrived.  Ed remains yet a bit of an enigma to us.  He wasn't a hiker and we never really learned what he was doing at the hostel.  He seemed to have an opinion on everything and felt unshackled in sharing it, whether we wanted to hear it or not.  He took a bunk between Week Knees and Buckeye.
I slept soundly that night in my cot.  Week Knees and Buckeye didn't fare so well.  For, as when he is awake, Ed also keeps a steady stream of noises going while sleeping.  At some point during the night, between the snoring and flatulence, Buckeye could take no more and moved out to the couch.  Week Knees stayed behind and roughed it.
Wednesday, April 10, 2002
The Roller Coaster Ride and a Fireside Yarn
 6:40 AM – We awoke to a comfortable 68 degrees in the hostel.  Skipper was busy in the kitchen working on his famous pancakes.  This morning he made "apple jacks."  It was his own mix of fresh-baked apples stirred into the batter.  As long as we ate, he cooked.  Though I wasn't introduced to him, a local gentleman, who often visits for Skipper's pancakes, showed up and joined us.
After breakfast, Moocher shared with us that his back was hurting badly.  I grew concerned when he examined the map to find an exit if things got worse.  However, he wanted to keep going.
8:50 AM – Reluctantly, we packed our gear and said our goodbyes.  With our bodies clean and our bellies full, we felt greatly renewed.  Buckeye, as typical, lingered but promised to see us at the next shelter.
The climb out of Bear's Den Rocks was very difficult.  That is because it is near the beginning of what is known as "The Roller Coaster" – a series of about ten steep hills that last for over ten miles.  The map reflecting this section resembles a very cruel roller coaster.  One is either pumping very hard to reach the top or carefully protecting one's knees on the difficult descent to the bottom.  Only a brief respite can be found at the top and bottom of each hill as the path levels off.
"We filtered water from the stream."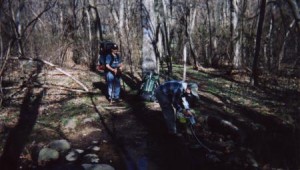 9:55 AM – I met two thru-hikers, Desperado and Bones, who were heading north to Maine.  They had started in North Carolina in March to stay ahead of most other thru-hikers, and would then return to finish the southern section.  I spoke with them briefly.  They seemed to be doing well but sounded to me to be very tired.  They had hoped to be at Bear's Den Hostel the night before but couldn't make the last three miles.  Today they would pass it on their way north.  I asked if they needed any provisions but they said they were doing fine.  I wished them luck and we parted ways.
10:20 AM, 57 degrees – I stopped at the top of a hill to check my voice mail.  My friend Maria had left a message about the parishioner's condition and it did not sound good.  As my friends joined me, I invited them all to pray.
The day continued to warm up and it became probably the finest weather day of the week.  Thankfully, Moocher's back had improved and it seemed he would not have to leave the hike.
12:00 PM, 60 degrees – I reached Buzzard Hill ahead of my companions.  It was time for lunch and this seemed the best place.  As I was nearly finished, Buckeye came up the Trail.  He stopped to eat with me and we had a nice visit there above the forest.  He shared his dream of one day planting an apple orchard and his hope to do it when he had finished his hike.  I asked of my friends and he said he had passed them at the bottom of the hill.  They had finished eating and were stretched out in the sun.  I could clearly picture the scene and could almost hear the light snoring.
"Ignoring the senses that want you to quit the Walk, you move on, believing there will be a reward."
Finishing my lunch, I moved south, leaving Buckeye at the top of the hill.  I passed some old stone ruins, of a homestead that had once stood in the forest, and then stopped at a nearby spring to fill up on some water.  Shortly afterward, I met three northbound hikers.  They were doing the same hike as my friends and I, but were going south to north.  They were friendly, and we had a nice chat in the woods.
Continuing my southbound "ride" on the Roller Coaster, I began to ask myself … "What am I doing out here?"  Often there comes a time when a backpacker begins to consider that question.  You think of how comfortable it would be to just quit. You recall the comforts of your temperature-controlled, level home and you try to remember what it feels like to have feet that don't ache.  The smell of your clothing, or your own body, causes wincing pangs and a desire to be someplace else.  But – on you trek.  Ignoring the senses that want you to quit the Walk, you move on, believing there will be a reward.  If not in that moment, then in time to come: be it a lofty vista, a unique sighting along the Trail, or later a fond memory that floods your thoughts, and you discover that all of the labor is remembered no more.  The Apostle Paul summed this same thought as he considered the Walk of Faith:
For I reckon that the sufferings
of this present time
are not worthy to be compared
with the glory which shall be revealed in us.
2:44 PM – I reached the summit of Piney Ridge and took a breather.  The soaring hawks gave me something to watch as I drank some water.  The evergreens on this hill created a wonderfully strong scent, as refreshing as the water.  It was now over 70 degrees and the sun was shining brightly.  That night, we would all discover that we had burned slightly in the hot sun.
4:30 PM – I walked into the shelter area known as Rod Hollow, and with much relief sat down on the hard shelter floor.  Unbuckling my pack and lowering it off my back made me feel better instantly.  I rested a few minutes before looking for the spring, which was bone dry.  But a creek runs close to the shelter and from here we would later draw all the water we needed.  I drank some more water from my supply and caught up in my journal as I waited for the gang.
5:30 PM – Buckeye came into camp, with everyone else following minutes later.  I was glad to see them all and be in their company again.  None of us found it hard to understand why there was no waiting line for this roller coaster.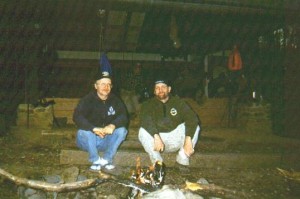 "A small fire provided the perfect atmosphere…"
We filtered water from the stream and made our dinner.  A small fire provided the perfect atmosphere for the joking, complaining and banter that always marks our evenings.  It also seemed to stir Buckeye who gathered us around and began a delightful yarn that started with the words, "Now, you know, Buckeyes never lie."  He went on and on about us four men whom he referred to as "the wayward flock," and why we were really out in the woods.  The details of the story would later become lost to me, but the enjoyment of listening to him spin the yarn remained.  In the end, he gave us each a real buckeye that he had brought from Ohio.  He was bringing them to pass out to thru-hikers with the promise that if he ever saw them again and they had the buckeye, then he would buy them a beer.  We all felt honored that he shared them with us.  Maybe someday we will cross paths with him again and take him up on his offer.
8:30 PM – With the light of day gone, we crawled into our bags and soon slumbered peacefully, with the Roller Coaster behind us, the hope of an easier hike before us, and a buckeye in our sacks.
Thursday, April 11, 2002
Of Men and Mice
 7:30 AM, 50 degrees – Some geese honking overhead and a woodpecker hard at work nearby woke us.  Moocher was interested in an explanation of my intentions during the night as it seemed to him I had tried to crawl into his sleeping bag.  As it happened, I had left my sleeping bag to attend to certain business during the night and upon returning, miscounted the number of bodies sleeping in the shelter.  Thinking that his bag was mine, I began to crawl over it but was stopped when I felt his feet.  It didn't strike me as all that funny when it happened, but it made me laugh in the morning.
"The forest always changed and always gave something new, leaving me satisfied with my presence there."
We took our time breaking camp and didn't set out until after 9 AM.  I moved on ahead and fell into a good steady pace.  The terrain was certainly easier than it had been the day before.  After a mildly difficult hill, I set out four Snickers bars in the shape of an arrow on a rock in the middle of the Trail.  This was because there had been some complaining that I had the only Snickers bars and was not walking together with the group.  I later learned that they were found and enjoyed by all four.  Buckeye was particularly moved and said that he paused to take a picture of the candy before eating it.
11:45 AM, 68 degrees – It's another beautiful day for hiking.  I stopped along the Trail and had my lunch.  Because it was so nice outside, I converted my hiking pants to shorts by unzipping them along the thighs.  The insects weren't bad yet so this made the hiking even better.
Crossing Rt. 50, I saw a group of young men wearing orange coveralls and walking along the highway, carrying plastic garbage bags.  It was obvious that they were from a local correctional institution.  I paused to watch them walk past.  They were talking loudly and I had a sense they were glad to be doing what they were doing.  One of the young men saw me standing in the woods and he waved to me, shouting, "We're cleaning it up for you!"  I was touched by this remark and shouted back my gratitude. As I watched them walk by, I thought of the differences between their lives and mine.  The adage came to me, "But for the grace of God, there go I."  Grace seems at times such a thin veil that separates victory from defeat, honor from disgrace and success from failure.  Thin, yes, but, oh so sufficient.  I breathed a prayer for them and one for me as I moved forward.
Continuing through the afternoon, a changing forest passed before me.  At times, it was filled with twisty vines and thick underbrush, while at other times I walked through areas where one could see for a hundred yards.  I saw towering trees and promising saplings.  A whitetail deer burst out of some brush and raced away at one turn and some squirrels played along a fallen log at another.  The forest always changed and always gave something new, leaving me satisfied with my presence there.
2:00 PM, 70 degrees – I arrived at our shelter for the night, Dick's Dome.  It is a uniquely shaped shelter, more round than square and built at the edge of a stream.  Stretching out to relax, I was soon overtaken by the audio therapy of the stream and was lulled to sleep.  It had been another good day of hiking.
4:00 PM – My friends strolled into camp.  Everyone was feeling good and had enjoyed the walk.  Moocher's back was no longer giving him problems, so he decided he would tell his chiropractor that he had found a new, more effective treatment.
Buckeye came in about half an hour later.  Since the dome is rather small, he decided to pitch his "tent" nearby.  It's more of a tarp than a tent and I know that I wouldn't want to be in it when it's raining hard.
on my writing."
While we were preparing supper, a dayhiker came strolling into camp.  He was the first person we had seen all day besides ourselves.  He had put on 21 miles that day and had about five more to go.  He carried with him some ready-to-eat meals that someone had generously left behind for hungry hikers in one of the shelters.  He was dispersing them at various shelters as he went.  He left three of these meals with us.  I later had one and found that it wasn't too bad.
Just before dark, we saw a mouse bravely approach us.  After shooing it away, Moocher decided to take advantage of the fact that I'm somewhat unnerved by mice.  He snuck up behind me with one of my hiking pools and touched the back of my leg with it.  Thinking of course that the mouse was now moving up my leg, I gave a jump that would have made an Olympian proud.  Week Knees thought this so funny, and laughed so long, that I began to question his mental state of being.
It turned out to be a long night for me.  The mouse incident coupled with my late afternoon nap kept me awake most of the night.  I couldn't shake the feeling that our shelter was going to be overrun by rodents.
Friday, April 12, 2002
Mint Chocolate Chip Magic
 7:00 AM, 50 degrees – It felt much more chilly than the morning boast of the thermometer.  A fog was lying thick in the area and it appeared we were caught between a rain and a mist.
After breakfast we turned south and continued our walk.  I moved ahead and soon passed a dayhiker who told me rain was in the forecast.  Soon afterward, I passed two more dayhikers who appeared to be in their 60s.  One said he was the caretaker of a mile of the Trail.  I told him he was doing a good job.
"He went on and on about us four men whom he referred to as "the wayward flock…"
10:28 AM – I stopped near Manassas Gap Shelter to catch up on my writing.  Moocher soon caught up.  His back was doing very well now and he really had a good pace.  He soon left to move on ahead.  Dream Weaver and Week Knees came by just as I was preparing to leave.  We walked together a short while before I pushed on and met up with Moocher.  We came across a 60'ish northbound hiker who had been on the Trail since April 1, 2002. He said he had thru-hiked the Trail last year but had come through this area so quickly that he did not have time to enjoy it.  He was now hiking at his leisure.
We next passed an older couple who appeared to be doing a several-day hike.  They only paused to ask how far it was to the next shelter.  The woman seemed very tired and I wondered whether they were planning on doing the Roller Coaster.
At 11:30 AM, I came to a picnic table near Rt. 725.  I sat down to eat lunch while Moocher went on ahead.  Week Knees and Dream Weaver soon joined me.  A gentleman came walking by with his dog and introduced himself as a United Methodist minister.  We stood and spoke for a while but Week Knees moved on, concerned that a gathering of three UM ministers would surely mean that an offering would be taken.
Dream Weaver and I soon left together but not without first setting out a Snickers bar for Buckeye.  We then crossed Rt. 725 and started a very steep and difficult ascent.  It took a while to reach the top and when we did, we found Moocher relaxing against a tree.  He had reached the top and decided to have lunch there.  We moved ahead and soon caught up to Week Knees.  The three of us marched south together along the Trail that led through some open pasture land.  This was very pretty and gave us a nice break from being in the woods.  We really had a nice and comfortable walk through the afternoon.
2:30 PM – I reached Denton Shelter ahead of the group.  A very nice shelter indeed.  It has a gravity-fed, spring-water shower.  Unfortunately, the spring was too low to feed it.  Actually, the spring was almost too low to feed us.  The water was slowly dripping out and it took quite a few trips with Week Knees' kettle to give us enough water for the night.
"… it took quite a few trips with Week Knees' kettle to give us enough water for the night."
When everyone had arrived, we relaxed in the hot afternoon sun.  We also hung out our sweaty shirts and socks to dry.  But soon the sun disappeared behind the clouds and we felt a few drops as the sky threatened further rain.
At around 4:30 PM, I had just voiced my concern over Buckeye when he strolled into camp.  His usual grin told us he was doing fine, but he seemed to have a brighter spark than usual as he set down his pack and greeted us with those familiar words, "Now, you know, Buckeyes never lie."
With that, he proceeded to tell us how he had just come down off the mountain, feeling exhausted and weary, when he spied a Snickers bar sitting out in the wild.  He said that he was so hungry he ate it, wrapper and all, in one swallow.  As he moved on and found Rt. 725, he said he heard a voice that sounded more like Horace Greeley than anything divine, telling him to "Go west, young man."  He said that he had turned west off the Trail and hiked about a mile to a small store.  Entering, he heard again the voice of Mr. Greeley who bid him to the ice cream freezer.  Feeling quite inspired, Buckeye recounted, he first sought out a stranger in the store who would give him a ride back to the Trail.  He then proudly exclaimed that he had bought some ice cream!
At this point of his story, we did not know what to expect or think.  But as he opened up his backpack, and pulled from it a half-gallon of Mint Chocolate Chip ice cream, we were convinced that he had truly been inspired!  I know that I was pretty speechless at that moment.  Here was a man who had been a stranger to us just days ago, and now had hiked a mile off the Trail, talked another stranger into a free ride, and bought not just ice cream but eight pounds of ice to keep it cold – all just to surprise us.
Hikers talk of something called Trail Magic.  It's when something unexpected happens on the Trail.  It can be the sighting of a unique animal or incredible view, but it is often a result of someone reaching out a hand to help when it is needed most.  There at the Denton Shelter, we experienced the greatest Trail Magic we had ever experienced to date.  It tasted like mint chocolate chip but it felt like magic.  It was an afternoon that none of us will soon forget.
"The trick is to take the trail home with you."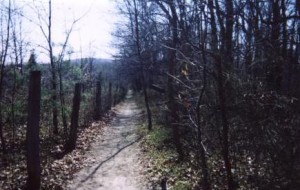 We later made supper and then hung around the shelter until dark.  The night grew cool very quickly.  After everyone had crawled into their sleeping bag, I took one last brief walk.  This was our last night on the Trail and, as always, it is difficult to go.  I thought of the adventures we had had, the miles we had hiked and the fun we had shared.  But most of all, I thought of the people we had met and the friends we had made since leaving our homes just a few short days ago.  This is what backpacking is all about to me.
A hiker called Oz wrote in the Denton Shelter register, just days before we arrived, something that I recorded in my own journal.  I found it reflected my own understanding:
The trick is to take the trail home with you. To implement the lessons you learned on the trail, the peace, tranquility, friendliness and clarity that these mountains give you to your everyday life.
I climbed into my sleeping bag and fell quickly asleep.  My last night on the Trail was a peaceful one.  The next day we would shake Buckeye's hand, wish him well and find our way back home – hoping to always carry something of the Trail with us.
Comments
comments