In 1999, Dream Weaver, Week Knees and myself, FeatheredProp, traveled to Connecticut to walk the Appalachian Trail. So taken were we with the walk, that we made a trip in 2000 to find the Trail and take it north into Massachusetts.
Because of the stories of intrigue that we had returned with the first time, two more hikers now joined us. Highball, the 18 year old son of Dream Weaver cast his lot with our band as did Moocher, a man who for obvious reasons always seems to have a lighter pack than the rest of us. These are our adventures, as seen through my eyes and felt in my pencil.
Thursday, May 11, 2000 
It struck me that this day was beginning like the end of a bad Western movie. I was becoming part of a posse gathering for a final showdown. First, Dream Weaver and his son, Highball, came to pick me up. Loading up my bags, we drove to Week Knees house. He saddled up with us and we rode together to the house of Moocher who was sitting on his back porch with his hat pulled down over his eyes. He greeted us with a wry smile and climbed aboard our wagon. With the posse now formed, the five of us galloped off together.
The sky was a perfect blue. The clouds looked like careless strokes of white, painted across a blue canvass by an Artist who, even on his worst day, could create a breathtaking masterpiece. In the middle of the afternoon, we saw the moon already crawling for its place in the sky and I wondered if it hadn't heard of this unlikely group and had come to witness the spectacle.
In the late afternoon, we stopped in Pawling, NY, and bought some groceries at the very same grocery store that we had visited a year before. We then drove on to Gaylordsville, CT, and pulled into the driveway of the Gaylordsville UM Church. As we climbed out of my van, our friend Rev. Paul Hibbard stepped out of the parsonage to greet us. It was wonderful to shake the hand of this same friend who had helped us out last year. It was good to renew our friendship. Paul had been hoping to make this trip with us, but had the honor of changing his plans at the last minute to celebrate the Resurrection at a funeral at his church. Though we missed him, we appreciated the devotion that kept him back. He did, however, join us for dinner at a local pizza place. Paul introduced us to the owner as a group of men who had come from PA to taste her pizza. The owner, Mimi, was so impressed that she served us each a free cream puff.
We then retired to the church that was familiar to us from our journey of last year. Paul chatted awhile with us before we wandered to the nursery where we had slept last May. While preparing to bed down, I caught up with my writing. Week Knees encouraged me to write, saying that he looked forward to finding whether or not he had a good time. Moocher took the sofa while the rest of us found a space on the floor. We crawled into our sleeping bags with visions of adventure dancing in our heads.
Friday, May 12, 2000 
6:50am we awoke as the men from the church came in to make preparations for their monthly fund-raising turkey dinner. They made us some coffee as we gathered our things. It had rained over night and was beginning to sprinkle again. But out spirits would not be dampened. Paul invited us into the parsonage and after a very pleasant breakfast, we climbed into the van and set off for the Trail.
9:30am we reached the parking area of Undermountain Trail. It was from this very spot that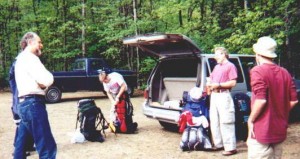 one year before we had begun our southern journey along the Appalachian Trail. Today we would go north. It was with a feeling of nostalgia that I climbed out of the van to see the parking lot and the trees gathered round it. It was just as I had remembered it. Both Paul and our party made our wishes that he could join us as we put our packs on. He then led us in a prayer and wished us Godspeed. As he left the parking lot, we turned our attention toward the woods and the Trail she concealed. The first thing I noticed was the fresh smell of a damp forest. Everything seemed so new and clean. It was though a grocer was trying to entice us with freshly splashed water over these forest vegetables. We began our walk.
Getting ready to begin our walk.
There is a noticeable, sometimes violent collision that is felt when the lure and fantasy of hiking meets the harsh, cold reality of really doing it. The first mile of Undermountain Trail provides excellent conditions for these two opposing elements to meet headlong. I had remembered from last year how steep this hill is. The mountain had not forgotten either. We lurched forward beneath our packs and started the trek upward. During this first difficult mile, I'm certain we all entertained thoughts, such as, "What am I doing here?" "I'm not ready for this." Or, "what is this thing on my back?" But Paul and the van were well out of earshot, so we kept on climbing.
11:20am, 55 degrees Highball and I reached the AT! This was the long awaited moment. I felt a shiver of excitement and my feet tingled as I saw the Trail. As we stood in silence, I could almost hear the echoing of feet as hikers from GA to MA were hiking their hikes at this very moment along the earthen highway. We found the skies clouding over and a gentle breeze blowing. The forest seemed so quite. Week Knees, Dream Weaver and Moocher soon joined us. We took a short break and then began walking north toward the Mass-Connecticut line.
12:20am, 57 degrees we walked into an area known as Sages Ravine. The guidebook describes this area as "especially attractive". I describe it as a sanctuary. It is a low ravine with steep, rocky banks climbing sharply up both sides. A busy brook plays along the Trail and the woods are dense with vegetation, moss and tall trees. The thick leafy canopy darkens the whole ravine, leading one to believe you are walking inside an empty, dimly lit church. Everything was so moist that the air isn't breathed, it's drunk. We passed two waterfalls where the water churned frothy white before falling from slippery rocks.
We walked slowly through this section as if walking through an art gallery. Sights, smells and crisp sounds abounded everywhere. To my right, I saw a tree that had fallen to the ground many years ago. It was now covered with moss and was slowly becoming part of the earth as it was being swallowed by the hungry vegetation. Yet its branches still reached upward in one last effort to find resurrection. I breathed a benediction over it as I passed by.
1:20pm, 58 degrees Highball and I reached Bear Rock Stream. Crossing it, we were led into Massachusetts. We followed the sound of rushing water and walked along the stream until it was seen plunging off an edge to unseen vessels below. We waited for the others to join us here. Unfortunately the bugs were too persistent for any of us to wait too long. So, we watched for a moment and then continued northward.
2:30pm, 59 degrees passing through Sages Ravine, we reached Race Mountain. The ascent was not long, but rather steep. As I reached the top, I was surprised for I had not anticipated a view this magnificent. Highball and I reached it first so we took our time to inspect the cliffs. The mountain is 2,365 feet high. Though that is not high by most standards, because the precipice is so steep, it seems much higher. Taking off my pack, I crawled on my belly to the edge of a rock and looked down. Following the landscape down the cliff and across the valley floor with my eyes sent a shiver up my spine and I recoiled from the rock. But gaining courage again, I peered out and let out a whoop. Perhaps not the most intelligent of responses, but I felt satisfied in that my exhilaration was expressed. As I lay there looking down, I saw a large hawk glide just 50 feet beneath me. This was most marvelous for I had never looked down on a flying bird before. Yet, here I lay watching the great bird soar below me, turning its head back and forth while searching with keen eyes. Looking at the scene before me, I sensed that from here there was nothing that I couldn't see. And I found that in places like this, poetry drips from the tongue like water over a falls and inspiration covers one like a soft quilt. It is a place one should visit.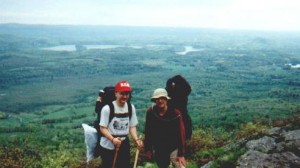 Highball was just as impressed. He counted six or seven hawks that soon began to sweep in great circles along the edge of the mountain. We both sat down on rocks and tried squeezing from our pencils any word that might describe the scene before us. We then put away our writing pads and loaded our packs. We would leave our three companions to discover this view for themselves.
4:10pm, 58 degrees Highball and I reached the blue-blazed trail leading to Race Brook Falls. We decided to wait here until the group is together to decide how much further we would walk. As we sat near a small stream, a stocky man with gray hair approached northbound on the Trail. Highball and I would later refer to him as the "burley hiker". The burley hiker sat down on a rock beside the stream and asked if the water was safe to drink. We told him that it probably was but that it would be a good idea to filter it first. He didn't reply, but reached into his pack and withdrew a cup that he dipped deep into the stream. He then gulped the water down and wiped his mouth clean, apparently quite refreshed. Highball and I looked at each other and wondered silently what bacteria and viruses were now running gleefully through his large frame. The burley hiker then rose up and hiked on.
4:45pm, 57 degrees Highball and I heard voices back the Trail but no one appeared. We waited for about 15 more minutes until Highball suddenly realized that our companions were probably sitting back the Trail taking a break not knowing we were so close. We walked back around a turn in the Trail and found them just getting ready to hike. We shared stories from when we had last seen them this morning and then decided to hike into the Race Brook Falls Campsite and stay for the night. We had originally planned on going to the next shelter area about 3 miles away, but decided to stay here since there was supposed to be a very nice water falls near by. We would later learn that the waterfall was a good distance away from the campsite so we never visited it anyway.
We walked into the campsite and took the first site for ourselves. Each site has a level wood platform raised about 1½ foot off the ground on stilts. Dream Weaver and Highball pitched their tent on the platform. Week Knees found a spot nearby for his single-man tent while Moocher and I searched for a suitable place for our tent. It was still cloudy and looked like it might rain. We made supper and listened to a rather loud group of campers at the next platform. I had trouble with my Whisperlight stove and ended up having to use Dream Weaver's stove. Two couples hiked in a bit later and stopped to talk with us for a bit. They had come in from the falls and were heading south tomorrow.
9:00pm 50 degrees we haven't had much luck with a campfire since the wood is so wet. But we were able to burn our garbage and now we are heading off to bed. The loud campers at the next site are still having a good time. As we lay down, an owl could be calling out its ageless but rhetorical question.
Saturday, May 13, 2000 
4:30am I awoke from inside my tent. Off to the west I could hear the ominous booming of thunder and see the occasional flash of lightening. As I lay there listening, I could tell it was getting closer. Some grand guardian of the forest had found our trail and was looking for us. With each brilliant flash of light, the ghost of the mountain saw where we had been and in response roared its thunder. His anger seemed to grow as he hunted for us. I pushed myself deeper into my sleeping bag. He had found our trail and would soon be upon us. For about half an hour I listened to the great beast of the sky, as it grew nearer. Finally, there was a flash of light so bright that even the darkness within our tents melted away. We were found and there was an immediate, rage filled laughter that sounded like a canon. The whole mountain shook beneath the bellowing thunder. Instantly rain was called down upon us. Lightening continued to flash so the rain could seek us out. And down it came. It is a most wondrous thing to hide behind a thin layer of fabric while the elements boil over. This became one of the most momentous occasions of the hike.
Moocher and I were kept dry in my new tent. Week Knees didn't fare so well. His tent sagged beneath the weight of the water and soon he was getting wet. He crawled from his tent and sought shelter with Dream Weaver and Highball. But his night was a difficult one. Besides being soaked, he became ill. When morning dawned I gave him some Vitamin C and he took some Ibuprofen. He didn't begin to feel better for at least a day and later admitted that if he hadn't improved, he would have ended his hike.
We packed our wet tents in the morning and had breakfast together. At about 9am, we set off and immediately found ourselves at the base of Mt. Everett. At this point, Highball and I moved ahead. The climb was very steep and challenging. The previous evening's rain made the Trail a literal streambed. At times we were walking through ankle deep water over a smooth rock face. This became even more complicated when we had to use our hands to find grips and pull ourselves up the wet rocks. Yet, it was for moments like this I had come.
9:40am 67 degrees we reached the top of Mt. Everett. The fog was so thick that visibility was only 20-30 yards. Our companions would later relate that when they reached the top they couldn't see the fire tower right in front of them until the wind blew. When the wind did blow, it blew the fog like snow.
Highball and I inspected the abandoned fire tower. We were unable to climb it. But even if we could have, there would have been no view due to the fog. So, after catching up in our journals, we moved north again.
1pm, 67 degrees we reached Jug End Road. For the past two and half-hours we had been descending Mt Everett. We wanted to continue the hike but thought that the rest of our party might have some difficulty on the mountain so we stopped at the bottom in a level area. Although it was not an official campsite, it was obvious that others had stayed here before. We waited for a while on rocks and logs, but the mosquitoes were pretty bad. Not knowing how long it would take for the rest of our crew to descend, we pitched our tents to dry them out and gain some shelter from the insects. We then lay down in our tents and took a nap while waiting.
4:45pm, 65 degrees two men came off the Trail and passed by our tents. The first man was struggling with a rather heavy rock. He said he had found it on the hill and was taking it home for his rock garden. I saw right through his story and realized that he was really sneaking off with rocks one by one to build his own Appalachian Trail. As he passed by, he told us that our companions were just behind him. Within minutes they appeared. Because it was getting so late in the day we decided to remain at this unofficial site. It took a lot of work to get a fire going, but we soon had one. A nearby spring provided some of the best water we had along the Trail.
During the evening we discovered a very large nest in one of the trees. And I mean very large. I would estimate it was four to five feet in diameter. I had never seen a nest that big. The thought occurred to me that any bird making a nest that large must be pretty big itself. And no bird gets that big eating worms. I stayed close to the fire.
A husband and wife came through the area with their dog sometime after our supper. They were very friendly and were just out for a brief walk. They said they lived near by.
8:05pm, 59 degrees Dream Weaver isn't feeling well. He took some more Vitamins and is trying to stay away from the smoke of the fire. His throat is sore and so he is keeping rather quiet. His tent pole is broke so he is spending the night in Dream Weaver's tent. Before much longer, we all hit our bags for the night. A cow could be heard bawling from some nearby pasture.
Sunday, May 14, 2000
7:20am, 48 degrees a thunder storm passed over us again last night. I slept so soundly that I recalled very little of it. Camp was wet as we emerged from our tents. But the sun was shining already and it looked like it would be a pretty nice day.
Before setting off after breakfast, I explained that I would like to hike into Great Barrington for some supplies. Week Knees said he needed some tape for his tent and Moocher said he needed a drinking cup for hot beverages. Highball wanted to walk to town with me so we set off a bit before the rest. Little did we know that this would be the beginning of a two-day adventure that would soon be known among us as, "The Tom Leonard Incident".
The first three miles were very easy ones. It was low land area and swampy. But there were some very nice sections of pine to walk through. Those are always some of my favorite places to hike. The needles on the ground make a soft and sweet smelling carpet. One sight caught my eye as well as my imagination. To my right I saw the top portion of a tree that had fallen over, from what appeared to be a lightening strike. But instead of falling to the ground, it had been caught horizontal in the outstretched arms of four other smaller trees. Those youthful trees continued to carry the fallen trunk of this great patriarch, not willing to let it fall. And as they grew, they would carry it to the top of the forest where it longed to be. How faithful of them.
10:20am, 60 degrees we stopped at Shay's Memorial which marks the spot where Daniel Shay's Rebellion ended in 1787. He and other farmers led a rebellion against unsettled economic conditions and against politicians and laws which were grossly unfair to farmers and working people in general. The uprising was quelled and ended in the field across from where we stood. There was a message board along the road so we left a note for our companions behind us. Highball and I then moved north again.
10:50am, 60 degrees we reached what I thought was Rt.7, but was really West Road. We didn't know how far it was into Great Barrington and didn't want to begin a walk into town that would set us too far behind. So, we decided to try our hand … or should I say our thumbs at hitchhiking. The second vehicle that passed us was a work van driven by a very nice man. He drove us into town and told us we were not actually on Rt. 7 yet. He dropped us off at a plaza along Rt. 7 so we could easily hike back to the Trail. We were very thankful for the ride and told him so.
I first inspected the restroom of a Mobile Gas Station. I gave it five stars. I recall watching with fascination the water in the toilet spin. We then walked to a grocery store and bought for ourselves turkey subs. They tasted superb and we feasted like kings while sitting on the curb of the parking lot. I bought some tape for Week Knees but we couldn't find the right kind of cup for Moocher. Picking up some supplies, we then phoned our mothers and wished them a Happy Mother's Day on their answering machines. Highball and I then hiked along route 7, back toward the Trail, anxious to tell our friends about our adventures. This is where things became difficult.
Just before we got back on the Trail, we met a woman hiker, La-Tortuga, who was walking into town off the Trail. She told us that she was northbound and had started this morning at the Glen Brook Shelter. That meant she had been behind us. So, we asked if she had come across our companions. She said that she not seen anyone on the Trail all day, but admitted she took a small detour around a hill. Based on this interview, Highball and I felt that our friends had probably already crossed Rt. 7 and were now ahead of us. The fact that La -Tortuga had taken a brief detour bothered me, because it meant that there was a part of the Trail that she had missed and our friends could have been on that section. But, it seemed reasonable that they were ahead of us given the amount of time we had been off the Trail while in town. So, Highball and I returned to the AT and double-timed it to catch up with our hiking party. Although we did not know it at the time, we were right; our friends were indeed ahead of us by just a short distance.
About one mile after the Trail crosses Rt. 7, it enters a wooded section. At this point, Week Knees, Dream Weaver and Moocher accidentally wandered off the Trail. When they discovered their error, they decided to pause for lunch. While they were just off the Trail, Highball and I came through. We heard a noise and stopped to look to our right. We could make out a bright red or orange jacket through the dense forest about 50 yards away. We figured this to be a hunter and so we kept heading north. The color, however, was not that of a hunter, but the red jacket of Week Knees and the noise was of him blowing his nose. As we passed by, we unknowingly moved ahead of our companions.
Rapidly, Highball and I climbed both June and East Mountains. We felt that at anytime we would happen across our companions. But the further we climbed, the more perplexed we became. We could not understand how the trio could have ascended these very steep mountains so quickly. East Mountain in particular is very difficult to ascend as it has several rock face areas that are scaled, not hiked. There were some fine views atop these mountains, but Highball and I didn't waste anytime among them. We were growing concerned because we carried the tents and if we didn't meet up with them, they might be forced to sleep without shelter.
At around 4pm, we reached a blue blazed trail that we thought was the entrance to Tom Leonard Shelter. We walked back the trail for a short piece and called for our companions but heard no response. I was getting very frustrated at this point. It now seemed that they weren't ahead of us, but I couldn't understand how they could be behind us either. We talked over our options and grabbed some snacks. Highball and I were both very tired after climbing so rapidly, but we felt we couldn't leave our friends to sleep out on the ground without shelter for the night, so we decided to turn south to find them.
As we were traveling south down the mountains, our companions were heading north and were not that terribly far in front of us. However, before we came upon them, they decided to leave the AT and take a bad-weather, short cut trail in order to catch up with us. So, instead of meeting them on the Trail, we unknowingly passed each other and once again exchanged positions. We were now south of them and moving further with each passing moment.
7:00pm, Highball and I reached the edge of the woods just before Rt. 7. We couldn't figure out why we never passed our companions. But now it was too late to do anything about it. There was only about an hour of sunlight left and we needed to make camp. So, we whispered prayers for our companions and hoped they would be all right for the night. Without cooking a supper, we climbed into our bags and soon fell asleep. We had hiked about 17 miles over difficult terrain and were exhausted. Highball had a huge, painful appearing blister on his left heel that would bother him for several days.
Monday, May 15, 2000
7:30am, 45 degrees Highball and I woke up to a chilly morning. We packed our things and walked back to Rt. 7. Although I couldn't imagine our companions still being south of us, it seemed the only logical conclusion. Thinking that they might be coming by this way, we laid down our packs along the Trail with a note and then walked into town for breakfast. I fully expected to find our friends at the packs when we returned. They were not; and I became even more confused.
11:00am, 60 degrees still no sign of them. We decided to hike south to see if they might be laid injured back on the Trail. But after a short trip back, we realized this did not seem logical. They did not seem to be behind us and they didn't seem to be ahead of us. I was stumped and growing more concerned. I had been checking the voice mail on my cell phone since yesterday but there was no message. Finally, we decided to turn north and hike once again to Tom Leonard Shelter. We left a message along the Trail saying we would return the next day if we didn't find them.
Hiking through heat and pesky insects is bad. But hiking when you are despondent and confused is worse. The thought of climbing East and June Mountains again was not appealing. But northward we pushed. I gave my trekking poles to Highball because his foot was very sore.
12:30pm 61 degrees we stopped for a snack and break. Yesterday we were almost running up this mountain, today we were barely moving. As we stopped, I checked my voice mail and this time was rewarded with a familiar voice. My mother left a message saying she had been contacted by Moocher's wife who had been called by Moocher. The message said that the trio was at the Tom Leonard Shelter and would remain there one more night. The news was more comforting than a flush toilet. We both felt relieved knowing we finally had a direction to go. Our spirits picked up and we continued north.
2:30pm rounding a bend in the Trail, I saw Moocher's red cap with his head tucked firmly beneath it. Standing next to him was Dream Weaver. I sounded a greeting and we had an emotional meeting along the AT. They had been walking around the Trail all day checking the cliffs and ledges for us believing that Highball may have ventured out to climb some rocks. Reunited, we hiked to Tom Leonard Shelter and joined up with Week Knees. It was too late to begin hiking for the day so we decided to remain at the shelter and tell our stories of the past 24 hours. That night we all slept in the shelter. Well, most of us slept. Moocher was too busy.
Seems not long after we lay down, he heard something crawling around his food bag that was suspended from the ceiling. How he heard it, I'll never know. He crawled out of his bunk and saw what he thought was a mouse on his food bag. He knocked it off with his flashlight but within minutes, it was back on. He approached it again and sent it sailing. Moocher admitted that we don't have mice like that in PA. A short while later he crawled out of his sleeping bag again to chase it off another food bag. This time, however, the frightened 'mouse' flew away. As it turned out, the mouse was actually a flying squirrel. I don't know how many times he got up that night to chase it away, but we all slept better knowing Moocher was on patrol.
Tuesday, May 16, 2000
7:30am, 39 degrees this was our coldest morning. We would later learn that Great Barrington had frost. We made breakfast but I had more trouble with my stove and we had to do all the cooking on Dream Weaver's stove. After we got packed, we all headed northbound together.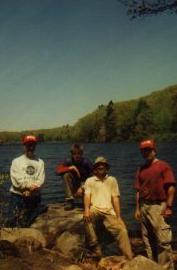 11:45am, 62 degrees we reached Benedict Pond. This was found to be a large pond with deep blue water that seemed to reflect the cloudless sky. It was a very beautiful place. Highball found a large garter snake sunning itself near the water's edge. We stopped briefly and I went on ahead telling the group I'd wait for them at a site known as The Ledges. However, I made a wrong turn and got off the Trail. I ended up getting behind the gang instead of in front of them and we might have had another problem had not a northbound hiker passed through to tell me they were not behind me. When he passed them, he advised of my position and they waited while Dream Weaver walked back to get me. We certainly didn't need another Tom Leonard Incident.
3:30pm 57 degrees we reached the Mt. Wilcox North Shelter. Although it was early, we decided to spend the night here since we had to time our exit off the Trail near a road. As we arrived, we discovered a hiker already in the shelter. As she emerged from her tent, we found her to be La-Tortuga, who Highball and I met outside of Great Barrington. She's a 62 year old woman who hiked about half the AT last year but had to leave to help her mother. She started in March of this year in PA and is hoping to finish it this year. However, she admitted that she isn't a purist when it comes to hiking. That means that she has left 'holes' or sections of the Trail undone.
When supper time came, I tried once more to fire up my stove. The control valve seemed to be working improperly. I lit the stove and was trying to turn up the fuel using the small valve. In so doing, the O-ring must have quite O-ing, because fuel started spraying out. I tried to close it down since squirting gas is not something you normally like to have around open flames. Just as I got it closed, the flame somehow found the fuel and my right sleeve caught fire. Missing an incredible opportunity to do a memorable imitation of the Statue of Liberty, I instead choose to extinguish my burning member. Fortunately, the fire burned only the fuel. My arm and hand remained slightly singed but generally unharmed.
La-Tortuga retired to her tent early. The rest of us stood around a one-match fire that Moocher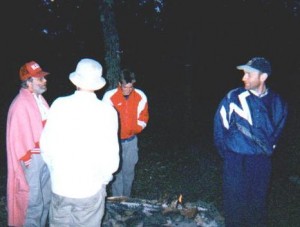 started. We had a pretty good time telling stories and having fun around the campfire. Week Knees made the suggestion that next year we should plan a Formal Night where we all wear a tuxedo for the evening. I don't know; it seemed pretty funny at the time.
9:00pm 50 degrees just as we were going to bed, we heard a strange sound that sounded like two owl's hooting back and forth at each other.
Wednesday, May 17, 2000 
7:20am, 51 degrees we awoke to warm sunshine. La-Tortuga pulled out around 5:30am. We made breakfast and took our time since we weren't going far today. We didn't leave camp until around 10am.
Today's walk was one of the easiest of the Trail this week. We passed through some very beautiful areas of pine and of thick deciduous foliage. We also passed by several stone fences that were probably laid when the forest sections were just fields. Thy almost seemed out of place in the deep woods now.
12:30pm 65 degrees we reached Fernside Road. Our hike is basically over. Paul will pick us up at this point but not until tomorrow. So we hiked just a bit down the path to Shaker Campsite. This was an interesting place. It had once been the site of a Shaker barn. The top half of some unrecognizable iron equipment resembling a rake or plow was half buried in the sod. And two walls of stone marked where the barn had once stood. As we inspected the camp register, we found a very nice note to us from La-Tortuga who had passed through earlier.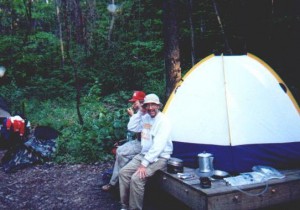 We spent the rest of the afternoon and evening just sitting around the campfire and finishing some of our food. Talking around a campfire is always enjoyable. We talked of many things but every so often, the conversation centered on taking a shower. That's when the conversation became the most reflective. We would stare into the burning embers of the fire and in hushed tones, take turns describing just how the shower would go and feel. It was as if we were describing the girl back home. Each of us had our own thoughts and we frolicked in them.
Thursday, May 18, 2000
5:00am, we awoke in our tents to the haunting sound of several coyotes moving to our west. It was an incredible sound. I lay in my sleeping bag feeling full of wonder. For the next half-hour, we listened to this majestic symphony of unparalleled beauty. I wish I could have captured the sound to listen to again, but that is a silly thought. For this kind of sound is not one that can be caught. It can only be found from the deep of the woods in the early morning hours when tired bones have been given new life by a night's rest. It was more than a sound, it was an experience.
As we emerged from our tents, there was an excitement in the air. Today we were going home. Today we would eat real food. Today we would shower. We walked to Fernside Road and waited for Paul. As we waited, I looked over my friends. We were dirty and weary. The Trail had taken from us our sweat and strength. But we did not leave empty. For we were taking with us those intangible things that can only be touched from walking among the hills.
8:15am, Paul arrived. Our walk for now was done.
Comments
comments