My last online hiking journal is dated 2004.  How sad.  How sad that my hiking/writing days seem at times so far behind me.  Sometimes they seem like a lifetime ago.  But, in all fairness, so much has happened in my life since 2004 that it really was a lifetime ago …
Not that I haven't backpacked in these years.  Indeed, my boots have been busy.  But writing about those experiences just hasn't been as high on my list as I would have liked to see it placed … I digress…
This hike was intended to be an autumn thru-hike of the Laurel Highlands Hiking Trail.  I did not accomplish that goal …more of that later.
Wednesday, 29 September
6:59 AM – John H. was kind enough to pick me up and provide shuttle service.  We pulled out from my place one minute ahead of schedule.  As pre-arranged, I placed a call to Legs to let him know we were on our way.  Legs did a thru-hike with me on the LHHT in 2009, and became the star – for obvious reasons – of myYouTube video.  He agreed to meet us at the Laurel Ridge Park Office.
John and I eagerly prattled as we shuttled along.  The morning was cool; perfect for a walk in the woods.  A light fog hung in the air; we were too busy talking to miss its ominous warning.
7:18 AM – We hit a deer.  Hard. Out of nowhere it ran from our right.  John had no time to negotiate.  The poor animal was dead before it hit the ground; and now John's car bore the ugly scars of the violent collision.  Fortunately, no veins carrying the car's vital fluids were ruptured, and we were able to continue our progress.  But the encounter unnerved us both.  I felt terrible since John was volunteering his time to drive me.
We met Legs and drove to Maple Summit Road.  Legs left his truck in the parking lot and climbed in the back of John's car.  When he learned about the deer he was quick to pronounce John's new trail name, "John Deer."  Strange, but fitting.
8:07 AM – Legs and I stepped from John Deer's car in Ohiopyle.  Legs buckled his light day pack; I harnessed by 43 lb backpack. We watched John Deer turn around in the parking lot and navigate out while peering through the spider web-like cracks in his windshield.
We were in Ohiopyle, but it was hard to discern that fact.  Usually the town is bustling – even this early in the morning.  Now, it resembled a ghost town. I don't recall seeing another living soul as we moved down Garrett Street.
It's not easy to tell where the LHHT starts.  There's no official marking.  One moment you're on pavement; next gravel; finally dirt.  At one of those points your hike begins.
The air was chilled and the fog still hung around our shoulders.  Legs donned his rain jacket – I opted for the two-shirt look.  We moved steadily along the Youghiogheny River and then began the turn upward.
I had been nervous about this hike for weeks.  It had been a busy summer and I had not the time to hike, jog, or exercise as I normally would.  I was concerned that my stamina was not up to the task. Legs and I climbed hard.  My breathing became labored, but it felt good – very good.
I can't recall much of the conversation between us.  But, we hadn't come to talk. We were here to walk – and that's what I remember the most.  We ascended and descended the roller coaster hills that have a notorious way of introducing a hiker to the LHHT on the south end.  With thanksgiving we swatted each mile marker-post with our hiking poles as we strolled by.
We finally reached mile marker six – the foot of Heart Attack Hill.  This was the hill I had been both dreading and excitedly anticipating.  It is an arduous ascent that will test even the most seasoned hiker.  I believe Legs was better trained for the hill, but when done, I was satisfied with my ability to climb it.
12:20 PM – Having reached the top, we were making our way for the rocky outlook on the west side of the trail.  As we neared the point we heard voices.  Stepping out onto the rocks we met two young ladies, Jessica & Laura, and their dog, Kimber.  They invited us to share the rock outcrop and so we settled in for lunch.
Jessica and Laura became delightful company for lunch.  They started hiking the day before, and had stayed the night at the Ohiopyle Shelters.  Their goal for the day was to hike 18 miles to Grindle Ridge Shelters, and eventually make it to the Turnpike before turning around.  They were doing well but were minus one flashlight.  Legs, very kindly, gave them his headlamp since he was not staying overnight.  They seemed taken by his generosity.  He shrugged it off, and invited them to return it to me on their way back from the Turnpike.  He shared with me later that they reminded him of his own daughter, and that he hoped someone would treat her as well.
Legs and I had a leisurely lunch on the rocks.  About half an hour after our hosts had departed we saddled up and began our northerly march.
The trail levels off nicely after Heart Attack Hill.  The forest was mostly green, but shades of red, orange, and yellow were waving at us as we moved along.
Within minutes we encountered two hikers; a young man and woman. They were on their way "back to town."  We didn't visit long with them but continued on.
Two miles later we encountered Jessica and Laura.  Kimber was limping from his left hip and they were concerned.  They were trying to make cell phone contact with family, but were having some difficulty.  Legs – always the gentleman – offered to give them a ride back to Ohiopyle since his truck was only one mile north.  They agreed to think about it as we continued northward.
When we reached Maple Summit Road, Legs simply wasn't ready to quit the trail yet.  He told me that he would walk a little farther north with me.
3:39 PM – We reached one of the nicest sections just south of Twin Lakes.  It is a grove of pines with a splashing creek that winds through it.  The trail is as soft as the air that embraces the quite sanctuary.  It was here that Legs decided that he must turn around and head back to his truck.  We shook hands and turned in opposite directions.
Now there was no friendly conversation – just the sounds of my own footfalls and occasional labored breathing.
Legs would later relate to me that when he returned to his truck the girls were waiting for him.  He retrieved his headlamp and ferried them back to Ohiopyle.
As the afternoon wore on my lack of summer exercise became increasingly obvious.  I became tired – very tired.  When I hit 15 miles my steps no longer had any dance to them.  When I hit 16 and then 17, I felt like I was moving backward.  At 18 miles I was beyond exhausted.  Seeing the "Shelter Area" sign near Rt 653 actually caused me to audibly exclaim my gratitude.
After devouring a candy bar I began gathering firewood.  Soon I had a roaring blaze that took very little coaxing.  A female Park Ranger stopped at the Shelter area.  She said that I was the only one scheduled to stay at Rt 653; unless two girls showed up.  I asked if those girls might be Jessica and Laura.  She confirmed this, and then I explained that they were probably leaving the trail due to their puppy.  She thanked me for the information and drove off in her SUV.
The pump water is non-potable.  So I filtered some for drinking and boiled some more for dinner.  Within an hour I was greatly refreshed.
8:15 PM – This was the last I looked at the clock.  I was fighting off sleep trying to catch up in my journal.  Soon, however, the battle became a worthless cause.  I laid aside pen and paper and snuggled into my bag.  The crackle of the fire sang me softly to sleep.
Thursday, 30 September
4:20 AM – I was awakened to the sound of a hard rain.  I crawled from my bag and tossed some heavy logs onto the fire before returning to my goose down-filled cocoon.
7:12 AM – The rain was still coming down as I crawled from my sleeping bag.  The sky bore a sad, gray smirk, leaving me with the impression that the rain was going to stay for a while.  The coals of the fire were hot enough to make my breakfast and take the damp chill from the Shelter air.  How I would later wish that I could have taken the fire with me.
9:08 AM – I finally set off, and climbed the short, steep summit out of the Shelter area.  Protected by my poncho, I first walked in the rain to the Park Office where I topped off my water supply from their spigot.  A man working in the maintenance shed waved to me – he seemed so warm and dry.
I crossed Rt 653 but did not pause at the Unnamed Cemetery as my usual habit.  Instead, I marched past with my head lowered against the rain.  It was mostly raining hard.  But then there were times that it came down very hard.
Had it not been for the hard rain, the six miles from Rt 653 to Grindle Ridge would have flown by.  They are easy, flat miles.  But in the cold, driving rain they were slower miles; much slower.
I barely gave Bear Rocks an acknowledging nod as I passed by.  Usually I step out on this rocky ledge and admire the view.  But not today.  The forest canopy provided some shelter from the rain and so I elected to remain beneath it as much as I could.
11:35 AM – I had a problem.  Water seeped into both boots.  With each step I felt water gushing between my toes.  With about ten more miles to go this day has every promise of being a difficult one.
With no let-up of the rain I began to become concerned.  On the following day I intended to cross under the Turnpike by using the underground culvert.  Ever since the Turnpike footbridge was removed, hikers have been trying to find creative ways across the four-lane highway.  But could I cross through the culvert if it is flooded with rain?
I swatted mile marker 26 as I waddled by.  Little did I know then that this would be the last mile marker I would spot for about 24 hours.
A few minutes walk north of mile marker 26 is a treated water spigot.  It was installed by the Park about two years ago to help alleviate the Trail's water problems.  Just for fun I lifted the handle to watch the water gush out.
12:20 PM – Reaching Lake Tahoe at Seven Springs I decided to duck out of the rain for a bit.  A ski lodge is at the top of the hill.  Though the restaurant is sadly closed this time of year, the downstairs basement, with bathrooms, is open year-round.
I took off my wet poncho and lowered my pack to the floor.  I withdrew some morsels to eat as I plopped down on one of the chairs in the basement.  I then withdrew my phone and sent my wife a text message. She responded by asking me to call her.  Soon I learned the sad news that our foreign exchange student's brother and been badly injured in an accident, and that our student must return home as soon as possible.  He had to be at the airport in about 4 ½ hours.  We had grown close in the few weeks that he spent with us, and so in a moment I decided to leave the trail and help out at home.
Legs pulled up in his truck in less than an hour and drove me home.  He informed me that the rain was causing flooding in other places, and would not alleviate for a while.
7:00 PM – My wife and I were sitting in a restaurant near the Pittsburgh Airport.  I remarked to her that just 12 hours ago, on a hillside on Laurel Hill, I was waking up in a crude shelter during a cold rain.  Now I was wiping my mouth with a cloth napkin, having finished a wonderful, hand-crafted hamburger.  It was a strange contrast.  But this was still my hike.  Whether I walked in the woods, on a road, or left the trail, I'm still hiking.  I'm still on a journey.  I'm still moving from point A to point B.  What happens between those two points is life.  And that's what hiking is about – living life.
Friday, 01 October
I slept well; little wonder why.  I was in a soft, warm bed with a comfy pillow cradling my head and my beautiful wife inches from me.  All hikes should be this nice.
The rain was over and the sun was trying to poke its inquisitive noggin through the dirty clouds.  The mercury wasn't going to climb higher than the mid-50s, but it was still going to be a good day to hike.
1:39 PM – My wife dropped me off at the Turnpike detour, which is on Hickory Flats Road located in Forbes State Forest.  Because I was meeting up with some fellow-hikers, this option seemed best.  I had asked some hiking cronies to join my on my thru-hike, but the schedule didn't suit everyone.  Instead, a group was going to meet up tonight at the Rt 30 Shelters.  I was looking forward to the companionship.
I kissed my baby goodbye and watched her drive off.  I then slipped into the woods and began walking.  It felt great to be back.  The colors seemed more brilliant because of the previous' day's rain.  The soft trail seemed to smile beneath my feet as I flickered across it.  The singsong of the forest soon matched the clicking of my hiking poles and the thump of my leathery boots.  All was well again.
Within minutes I reached mile-marker 38.  I had missed one day and twelve miles.  I could live with that.
3:20 PM – I reached the foot of Beam's Rocks.  This is a natural rock outcrop that is not only popular with rock climbers, but with many who come to take in the scenery from its top.  I strained to hear anyone who might be at the top, but heard no voices.
3:44 PM – A flash of blue in the woods ahead of me turned out to be someone's backpack.  Minutes later I overtook two of my hiking comrades; Poncho and Freebird.  They had put in at Beam's Rocks and were moving north as I was toward Rt 30.  We gathered together and talked for a few minutes while the trees listened.  I then moved forward with them, talking and laughing as we went.
As we trekked together I learned something previously unbeknown to me: Poncho is quite the Dendrologist.  In fact, he was Pennsylvania's State Forestry Champion of 1984.  He showed me a few ways to identify trees, but I don't believe I left him very impressed with my powers of retention.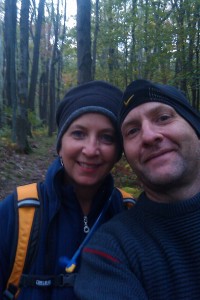 5:22 PM – Reaching the sign pointing toward the parking lot, I was not completely surprised to see my wife.  Today was my birthday and because of some questions she had been asking about my hike, I suspected that she might show up.  In her hands she carried one of my favorite deserts; Pecan Pie.  She planned only on surprising me – she had no intention of staying for the night.
Beside my wife was, well, No Name.  We just haven't picked a good trail name for him yet.  He was going to help my wife get to the Shelters when we stumbled upon their little surprise.
No Name shuttled Freebird back to Beam's Rock to get his Jeep while Poncho and I walked with my wife to the Shelter.  She helped gather some firewood while I coaxed a little fire into existence.  When I stepped from the shelter for a few minutes she hung up a festive "Happy Birthday" sign on the shelter wall.
Poncho assumed the next door shelter and began a fire there.  When it seemed my fire would make it I walked my wife back to the parking lot.  On our way we met No Name, Freebird, and Ring Tone as they were making their way into the shelter.  As we hit Route 30, we passed two young men hiking in.
After kissing my wife goodbye (second time today) I returned to the shelters.  My friends and I shared in the Pecan Pie and then gathered in one of the shelters to eat and talk.  Although I enjoy the solitude of a hike, I also appreciate the camaraderie that is so often inspired by roaring campfires.
We noticed two tents pitched near Shelter # 5.  I assumed that these were the two young men I met crossing Rt 30.
9:10 PM – Ring Tone and I retired to our shelter.  It probably took me a full two minutes to fall fast asleep.  Ring Tone lay awake for about an hour.  I was surprised because I assumed my soothing snoring would have lulled him to sleep long before.
Saturday, 02 October
7:15 AM – I think my night went better than Ring Tone's.  Rolling over in my sleeping bag I looked at the fire.  It was burning nicely.  Ring Tone had crawled from his bag three times during the night to feed it.  I performed the same duty only once.  He shared with me that he had felt a mouse scamper across his sleeping bag sometime during the night.  There are some advantages to being a heavy sleeper.  Photo courtesy of Freebird.
We made breakfast over our camp stoves while leisurely packing up.  I had been carrying an empty rum bottle that was put in my backpack the last time I was out with the boys.  I think Poncho put it in my pack – who got it from someone else's.  It was my duty to stow it away in Ring Tone's.
9:09 AM – With bags packed and bellies full, we paused for a portrait that Freebird arranged.  The, we all set off on our northward trek.  Freebird generally led the way.  The temperature was warmer than the day before, and the sun could be seen at more regular intervals.  It was a cheery day for walking.  Photo courtesy of Freebird.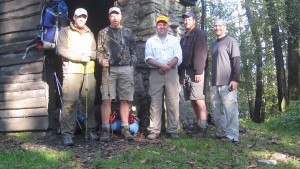 We kept an eye out for water sources since there is nothing at Rt 30 Shelters.  We never found any water as we walked, and so we conserved with short sips.  This really was not a problem since we had no challenging ascents to combat, and therefore did not feel dehydrated.
We encountered no trail traffic as walked.  Although the trail is still a popular hike, the absence of the Turnpike Bridge has seriously affected the number of hikers that it sees.
At various intervals we stopped along the trail to chat or to grab a snack. At my insistence we stopped once to sit down.  My feet were giving me some problems and I wanted to give them a break.
4:20 PM – We reached the Rt 271 Parking Lot.  This is where my friends would be leaving.  No Name gave me whatever remaining water that he had.  I then sat down to filter water for the evening.  As my comrades were pulling away, Freebird realized that he had not wished me well, and so he had them stop the car.  Very kindly he walked over to me and shook my hand.  We thanked each other for the trip and he disappeared among the baggage and bodies in the waiting car.
As my friends drove off, I was met with the same silence that greeted me when Legs departed on the first day.  But it was a good silence.
I gathered my things and then began walking to the Shelter Area.  On my way back I passed a young woman who was walking away from the Shelter.  She smiled politely to me and we swapped hellos.
Arriving to the Shelter area I saw the smoke of two fires already burning.  I first walked to Shelter # 5 and introduced myself to its sole occupant, Scott.  Scott and I had met on my trail forum.  We anticipated meeting one another since we knew that his southern hike, and my northern hike would be converging together on this night.  We chatted for a few minutes and then I walked to Shelter # 4.
I immediately recognized the campers in # 4 as the two young men I had passed the night before at Rt30.  I was a little confused when I met them since my friends and I had left Rt30 before they did, yet they had managed to arrive at Rt271 first.  They explained that they were able to accomplish this feat by driving, not hiking.
I had reserved Shelter #1, but discovered that it was not conveniently located to the firewood.  Since # 3 was not taken I decided to change plans.  As I was gathering my third armload of firewood, two teenagers walked into camp.  I already knew the answer when I asked what shelter they were scheduled to take: Shelter # 3.
I walked with them to their Shelter and picked up my backpack.  Three arm-loads of firewood was the cost for making a wrong assumption.  As it turned out all of the shelters were reserved for the evening.
I didn't feel like carrying more firewood so I decided to become an imposition.  Grabbing my things I skipped down to Shelter # 1, where Scott was enjoying his solitude.  I explained that I was too lazy to carry firewood to my shelter and wondered if he wouldn't mind spending the night with a complete stranger.  He graciously accepted my offer and moved his things to accommodate my junk.  I brought him a single armload of firewood, which was really just a shallow gesture of kindness since he obviously had enough.
Scott had begun his southbound hike just two days before.  Although he was hiking solo, he explained that the young lady I passed coming into the shelter area was his fiancée, who had paid him a visit.
Before I settled in I walked around the camping area.  The two teenage boys were now joined by an older man.  They were Boy Scouts from Ohio, and had hiked in from Rt30.  They were hiking back the next day.
As light was sucked from the forest I settled down for the night.  Scott would later report that I snored.  I can only take him at his word since I don't know – I was too asleep to remember.
Sunday, 03 October
7:20 AM – Somewhere, at sometime, I recall hearing that hiking etiquette required the Shelter Host to feed the fire during the night.  Scott apparently missed that memo. He remained fairly snug in his bag while I arose thrice to add wooden fuel to the flames.
We crept from our bags and had breakfast beside the fire.  It was a cool morning, but thankfully there was no rain in the forecast.  Today would be my final day on the trail.
As I pulled out, Scott was still at the Shelter.  He didn't have far to go and was in no real hurry to get there.  We wished each other well as I moved out.
There was no need to top off my water supply, so I took to the trail.  I had about 14 miles to go; and a large portion of that would be downhill – certainly not a bad day ahead.
The miles rapidly fell behind me.  I wasn't trying to race, but it felt that way.  The cool temps made it easy to float along.
"…stopping when i want to stop – eating when I want to eat.  I love the unhurriedness of the woods."
11:30 AM – I stopped for lunch near to the top of the ridge.  I decided to relax for a while since I was ahead of schedule.
This is one of the things I enjoy about hiking: going at the pace I want to go – stopping when I want to stop – eating when I want to eat.  I love the unhurriedness of the woods.
Eventually I saddled by bag again and began walking north.  During my descent into the Conemaugh Gorge, I passed several people on a day hike.  They did not stop to chat, and so we kept our greetings to one or two syllables as we passed.
With only about two miles to go I met Larry, his sister Spring, and their three dogs. They were heading up the gorge.  Larry was rehearsing for his thru-hike, which he intended to begin in three days.  He seemed pretty excited and had been working hard at it.  I would later learn that he completed his hike without any problems.  I think Spring joined him for a bit of it.
3:03 PM – Seeing the 70 Mile Marker always makes me smile (unless I'm southbound).  Although I didn't quite get the entire trail done, I was pleased nonetheless.
>My dear bride was schedule to pick me up at 3:30.  So, I plumped down and grabbed a snack.  I took a few minutes to reflect on my journey, and all that transpired in the past few days.  Life, like the trail, is always a trip.  At times bumpy; but always a trip.
Dane's Place, 2010 ©

Comments
comments