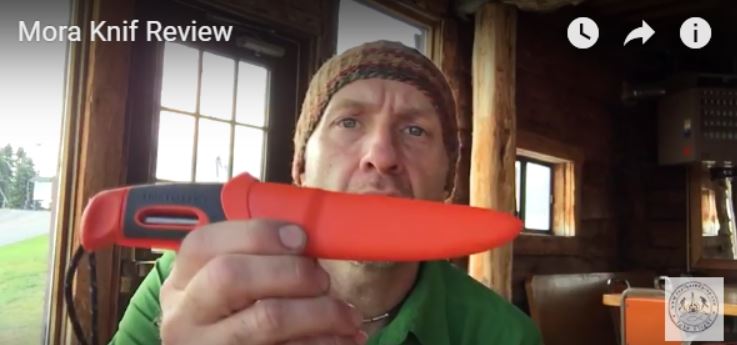 With a price tag at right around $30, the Morakniv brings a lot of bargain to the backwoods table.
A friend of mine had recommended this knife because of it's price and durability.  When I learned that the knife also carried the Light My Fire Firesteel, I was sold.  The firesteel creates sparks measured at 5,400 F degrees, making it incredibly easy to ignite a fire with the right kind of tinder. Therefore, with this knife, you are carrying into the woods a way to make fire in the event of a survival situation.  However, for me, using the Firesteel is how I make a fire every time. It keeps my fire skills sharper.
Watch the review video.
The stainless steel blade measures 3.75″, with an overall length of 8.5″.  Out of the box the blade wasn't too sharp.  However, it responded well to a little sharpening and has held up incredibly well.  I use it regularly to baton firewood. The small blade drives very well through wood, allowing me to make tinder and kindling.
It comes in a plastic sheath. I've read that a number of users don't like the plastic sheath.  Admittedly, it's not the most handsome piece of gear.  However, the knife locks tightly into place in it, making me feel confident that it's not going to fall out.
The functionality and price of this handy piece of gear made it exactly what I was looking for. This knife goes with me on every backpacking trip.
dane
Comments
comments