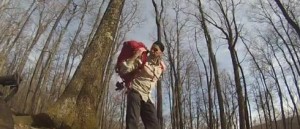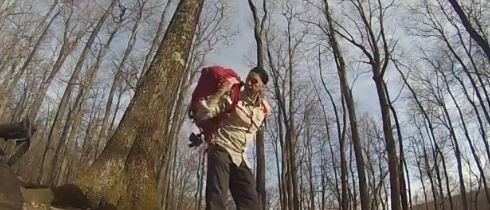 Shakedown Hike, Spring 2015
Friday, April 17, 2015
It was time.  With Spring settling in it was time to get the boots dirty again.  A "shakedown" hike was exactly what I needed.  I needed to stretch my legs and use some gear. It was time to hit the woods.
For this hike I hooked up with Rob from Backpacking Adventures. Rob runs a growingly popular Youtube channel, and was also looking to get out (I recommend subscribing to his channel).  He had heard about the LHHT and wanted to kick its dirt a little. So, we arranged for a three day, two-nighter. (see Rob's video report of this trip: https://youtu.be/u-NDC3HUKZE)
After shuttling around we finally arrived in a small parking area that is part of Forbes State Forest.  I had first contacted their office at 724-238-1200 and got permission to leave my vehicle.  The lot can be found close to this point.
It was Friday afternoon.  The rain, which had been intermittently falling all day had stopped by the time we had reached the woods.  With a favorable forecast I decided to leave my rain pants behind.
Rob and I jumped on the LHHT located near Halls Spring Rd and turned south. We moved swiftly along the trail in the cooling afternoon air, and chatted as if we had just met each other – which had actually happened.  In no time at all we reached the Turnpike Shelters.
The State Park Facebook page had published that every shelter but one had been booked. When we arrived no one was present yet.  So, we scouted around for a good place to hang our hammocks.  We elected to hang on the upper section, above the water pump. Rob was impressed with the amenities provided by the State.  He wandered around with camera in hand and narrated for his audience. It was a lot of fun to watch him work.
We made a fire in one of the shelters waiting to be kicked out by the camper who had reserved it.  However, the camper never came.  Actually, no camper ever came.  Although the shelter area was supposed to be nearly full, no one came. We had the place to ourselves.
We cooked our dinner and as night fell, Rob announced "hiker midnight" – 8:30 pm.  We each retired to our hammocks and were soon out.
Saturday, April 18, 2015
As light began to creep through the forest Rob and I both stirred.  We talked about the owl we heard hooting away during the early morning hours, but had no remarkable stories of the night.
After packing we set off.  Our goal was to walk the 14 miles to the Grindle Ridge Shelters, where we would hook up with a few of my friends from the Laurel Highlands Hiking Trail Facebook page.  Rob suggested eating a light breakfast and then stopping after a couple of hours to finish off the meal. So, we moved along, chatting, filming, or just walking in silence.
With a few miles under our belt we stopped at a fallen tree and finished off breakfast.  The morning was beginning to heat up and carried every promise of becoming an outstanding Spring day.   Top layers were soon shed.
We crossed the many streams on the split wood bridges that mark the LHHT.  At one of these we stopped to replenish our water supply.  Rob used his Sawyer Squeeze, while I worked my Mini Sawyer.  Our water was both clean and cool.
After crossing RT 31 we met two ladies out for a day hike.  They were walking north and were talking about hitting a Dairy Queen.  They said that they had not encountered my friends.
While descending the trail behind Fire Tower Rd, we met a late middle-aged male who was out for a day hike.  He had walked to Lake Tahoe and had been returning.  He complained of the difficulties encountered in finding the LHHT around the Lake.  He also said that he believed he had encountered my friends who were a few miles south of us.
Although we had planned on eating lunch at Lake Tahoe, Rob soon felt his steam escape and needed to eat.  I knew exactly what he meant because that often happens to me.  There is no mistaking the feeling of plummeting blood sugar and it must be resupplied.
After crossing County Line Rd, we paused while Rob grabbed some lunch.  We then began the ascent to Seven Springs, which is the highest point of the LHHT.  After winding around the horse stables we started up the ski slope. Much to our surprise we saw skiers working the slopes in the final vestiges of snow.  Some were in T-shirts and short sleeves, enjoying one of the few remaining days of their winter sport.  Rob pointed out that they loved their hobby as much as we love ours.  I believe he's right.
We stopped at the Lake Tahoe Lodge.  During the height of the ski season they sometimes sell burgers out of the top floor.  But, there was nothing frying when we arrived.  We ducked into the bottom floor and used the bathroom to clean up.  We met a man and woman who were day hiking and had also wandered in.  As it turned out, the man grew up in NY, not far from Rob.  They talked about places and names that didn't mean anything to me, but it was obvious that they were speaking the same language.
Leaving the lodge we circled Lake Tahoe and reentered the woods.  I topped my water supply off at the potable water spigot along the trail because it was just too easy not to do so.  We then walked through the clay pigeon shooting range without hearing a shot.  That's a bit unusual as it can sometimes sound like a war going on.  We would later learn that a group of scouts who had stayed with our friends the night before at Rt31 had stopped to enjoy the range for the day.
We descended and ascended out of Blue Hole and meandered easily along.  Just as the soles of my feet were beginning to bark we saw the Shelter sign.  We were home.
As we entered the shelter area we found a communal campfire already started.  Tina, Keith, Ed, and JoAnn were sitting around it and I introduced them to Rob.  He quickly became part of their group and had them laughing in no time.  We ate our dinner and then found trees for our hammocks.  Afterwards, JoAnn broke out some smores, which she kindly made for us.  Nothing tasted better.  Thanks JoAnn.
We stayed up well after hikers midnight just sitting around the fire.  It was an enjoyable evening.  We then retired, each to our own quarters, and found slumber quietly waiting for us.
Sunday, April 10, 2015
The sky was aflame when we woke.  Reds and pinks flooded the scenery above us.  It was an amazing sunrise that could be enjoyed because the leafy canopy was not yet above.
Rob and I ate and packed our backpacks.  We only had about five miles to reach his car at Rt653.  JoAnn had originally planned to hike back to Rt31 to her car but jumped at the chance to walk farther south with us.  So, we said our goodbyes to Tina, Keith, & Ed, who were walking back to Seven Springs.
The stretch of trail from Grindle Ridge to Rt 653 is easily the most level section of the entire LHHT.  We moved effortlessly along, enjoying the warm temps.  We stopped briefly at Bears Rocks for the view and crawled around the rock formation before continuing our journey.
Without breaking a sweat we reached the parking lot. Other than the shuttling our hike was over.  We covered around 24 miles and had a great time in the woods.  It was the perfect shakedown hike.
peace,
dane
Comments
comments