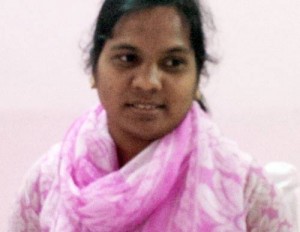 WARNING: This post contains graphic language.
Here in the West we Christians tend to think of persecution as being mocked, laughed at, or being discriminated against.  It makes us uncomfortable, but we can easily find the support of other Christians when this happens.  If you are a follower of Jesus, however, in other parts of the world, things can be completely different.  It can go beyond feeling a little uncomfortable.
Christian watch groups like Voice of the Martyrs (VOM) and 8thirty8 labor hard to make public the plight of suffering Christians.  These organizations work with believers in areas where converting to Jesus is either considered criminal, or at the very least a dangerously unpopular thing to do.  The news they bring of the suffering of these Christians is almost too difficult to read at times.
On 30 July 2015, 8thirty8 ran an article, asking for prayers for Asmita, the widow of Pator Digal of Bhubaneswar, India.  They reported that "A Hindu mob forced her husband, Pastor Digal, to convert to Hinduism or die. When he refused, they buried him in a muddy pit up to his neck for two full days, leaving only his head exposed. At one point Digal asked for water, and one of his captors urinated into his mouth. On the third day, they took him out and asked 'Are you willing to convert?' and every time he said no. In response, they cut off each of his limbs, one by one."
Asmita's story, as well as the stories of several other Indian martyrs were graphically recounted in a Catholic website called Crux (dated 28 July 2015).  There, five Christian widows recounted in horrific detail how their husbands were tortured and murdered because they refused to renounce their faith in Jesus.  Stories like theirs are common.
In his 2015 book, Killing Christians: Living the Faith Where Its Not Safe to Believe, author Tom Doyle proposed a way in which Christians in the west can pray for our persecuted family.  He suggested that Christians everywhere set their watches and cell phones to ring an alarm at exactly 8:38 pm everyday.  At 8:38 in the west, it is very early morning in the east.  Christians are getting ready to start their day and face the perils of being followers of Jesus.  By bowing our heads and whispering prayers for our brothers and sisters, we are in essence standing with them.  Our prayers support them.  Without them, they might falter.
The #8thirty8 campaign is based on Romans 8:38 and following which reads: For I am convinced that neither death nor life, neither angels nor demons, neither the present nor the future, nor any powers,  neither height nor depth, nor anything else in all creation, will be able to separate us from the love of God that is in Christ Jesus our Lord.
Won't you set your phone to go off each day at 8:38 pm and pray for your Christian family?
peace,
dane
Dane Cramer is a backpacker, Christian blogger, jail chaplain, amateur filmmaker, and author of two books: Romancing the Trail and The Nephilim: A Monster Among Us.
Comments
comments