There seems to be something going on.  Something spiritual. Something good. Something very good.
For the past four or five years I've noticed something happening locally.  I've shared it with my wife, friends, and my church.  It's time now to take it to the next level and blog about it.  I want to share what I've seen.  My hope is that others will respond with similar stories.
For many years people have been praying for a revival in our area.  I've heard those prayers in churches, around living rooms, and even on the public square.  Now, it seems to me that those prayers are being answered. I hear the rumblings.  And what is most striking about this revival is that it is happening within a very particular section of our community – our youth.
When I was young and in my church's youth group, there were quite a number of us teenagers who were serious about our faith. Most of us are still walking with the Lord today.  However, of my old youth group, very few are involved in deliberate ministry and none are involved in full time ministry work.  They are simply living out their Christian walk as businessmen, homemakers, and laborers.  It seems this has been true for a number of local churches.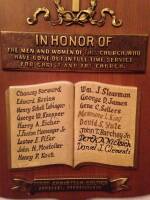 There's a plaque on the sanctuary wall at Somerset First Christian Church listing church members who have gone into full time ministry.  Sometime around the 1960s a name was added to the plaque and then it fell silent – for nearly fifty years.  During that time no one had responded to a call to enter ministry.  Then, another name was finally added, Derek. And another, DJ.  Then, the floodgates began to open.
It's almost hard to keep track of the number of young men and women who are now forsaking the opportunities of the world and pursuing deliberate ministerial work.  We have Jody and his wife Elisabeth; Jesse and his wife Kayla; Andrew who just returned from a trip to Turkey, and Sarah, who is ministering with her husband DJ.  Maddy and Torrie have done international work and have great opportunities for service ahead of them.  Then, there are Lexi, Josh, Nick, Brenden, & Cody – all who are seriously considering God's call in their lives.
These are just the young people associated with my church (I apologize because I probably failed to mention some names).  Yet, ours is not the only church in the area with young people who are showing that they are serious about their faith.  There seems to be a revival happening everywhere.  Young people aren't just taking the faith of their parents or pastors, they are taking up their own faith, their own love for Jesus, and showing that love to the world around them.
A non-denominational group, Young Life, has recently come to Somerset. This is a vibrant ministry that is reaching the unchurched young people in our area with the love of Jesus.  They have been doing amazing things for God.
We need to fan the flames of this revival. We need to ride this wave.  We need to take advantage of a move of God that is obvious. The fields are ripe for harvest.
What is your own youth group doing?  Do they need your help? Your financial support?  Your prayers?  Consider donating to Young Life to help them reach out.  Help your own group.  Do what you can and continue to pray for our young people.
Do you have a story about the youth of your church or area?  Please tell me about it. I want to know how wide-reaching this move seems to be.
peace,
dane
Dane Cramer is a backpacker, Christian blogger, jail chaplain, amateur filmmaker, and author of two books: Romancing the Trail and The Nephilim: A Monster Among Us.
Comments
comments