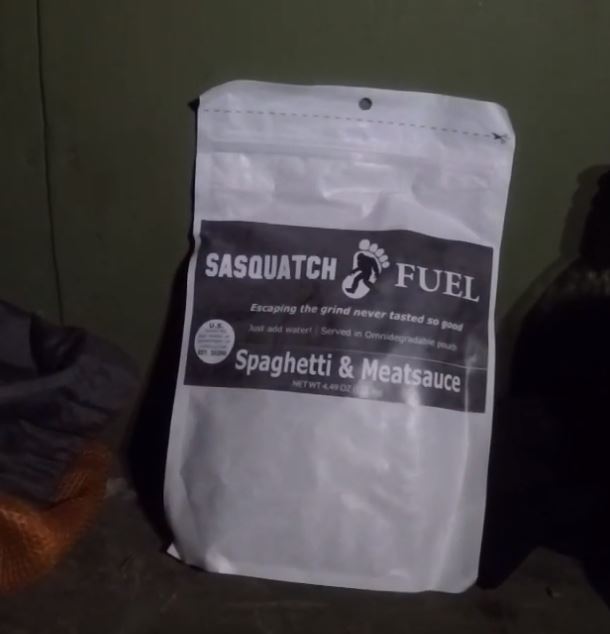 During my 2018 Yo-yo backpacking trip, I was introduced to Sasquatch Fuel. Brian from HBF Outdoors had reached out to Sasquatch Fuel, and they had very generously agreed to sponsor the trip by donating some dehydrated meals.
My very first impression of the meals was, "Wow! These packages are light!" Weighing in at around 5.5 – 6.5 ounces per meal, the packages were so much lighter than I had been used to in other prepackaged, dehydrated meals. One of the reasons why the meals are lighter than some other store-bought meals is because Sasquatch Fuel meals come in single-serving containers.  For a long time I had been buying Mountain House meals. They tasted great, but many of the meals were 2 servings. This meant leftover food for me because I was often alone in the woods. And most of you probably know that leftover food is an open invitation to nighttime critters.
The second amazing thing about these meals is the packaging.  Of course, you can pour in hot water and cook in them just like many of the other competing meals. However, Sasquatch Fuel goes one step further. These meals come in biodegradable packages, which will break down naturally. This means that if a package becomes accidentally discarded in the wild, it will eventually dissolve. Even if it is tossed in the garbage, it's environmental footprint will be reduced as it breaks down in a landfill.
But the real test was the meals' performance on the trail. I have to admit that I jumped the gun on the first meal that I had tried. I was very hungry after hiking all day and was anxious to eat. I poured in the hot water and let it sit for a few minutes before tearing it open.  Unfortunately, I hadn't let it sit long enough and the pasta was a little under cooked.  The instructions suggested around 9 minutes, but I didn't wait that long. The next meal I gave a little longer and found it cooked perfectly.  The taste of these meals is outstanding.  I also found that they are the perfect meal size for me. I was satisfied when I was finished, and there was no leftover.
Check out my video review of Sasquatch Fuel meals
When I came home from my Yo-yo hike, I purchased all four meals: Vegan Rice & Beans, Spaghetti & Meat Sauce, Beef Stroganoff, & Soutwest Mac N Cheese.  Although I dehydrate a lot of my own meals, I like keeping a few prepackaged meals on hand for those last minute trips. Recently, I grabbed the Spaghetti & Meat Sauce for a quick, overnight trip to the LHHT. It's a hearty meal that also packs a bit of a punch. If you like your meals a little spicy, then you're going to love it.  If, however, heartburn is a problem, then you may want to try out this one before you go to the woods.
I love buying gear and provisions from cottage industry suppliers. Sasquatch Fuel is a small business, run by a father & son team from Montana. They are personable. They've responded to my questions and do their best to provide real, human service to the products they sell. I'm about that. That's why I can recommend Sasquatch Fuel for your next adventure.
Check out Sasquatch Fuel meals.
peace,
dane
Dane Cramer is a backpacker, follower-of-Jesus blogger, jail chaplain, amateur filmmaker, Podcast host, and author of two books: Romancing the Trail and The Nephilim: A Monster Among Us
Comments
comments