Local author takes on the Nephilim in new book
By AMBER ROSADO Daily American Staff Writer amberr@dailyamerican.com | Posted: Sunday, July
27, 2014 10:02 pm
Writing a second book could seem like a monstrous task for some. Somerset native and author Dane Cramer can attest to this fact after having his book "The Nephilim: A Monster Among Us" released this month.  Cramer said he has been playing around with the idea of writing a second book for at least seven years.  "I went on vacation with my wife in February and that's when I really sat down and started writing feverously," he said.  The book explores how a small town is effected by a half-human,
half fallen-angel monster, the Nephilim, in the woods. This faithbased thriller is Cramer's first fiction book.  Cramer said he chose the nephilim as the subject of his book because the Bible mentions this mysterious creature only twice.  He wanted to use this air of mystery and macabre to intrigue readers.  "I wanted to use the monster to draw readers in and teach them at the same time," he said.
In 2007, Cramer published his first book, "Romancing the Trail: Six Days Atop Laurel Ridge," describing his trip along the Laurel Highland Hiking Trail.  Cramer said his first book came about after his friends enjoyed reading his travel and backpacking journals.
He also started his online blog 'The Feathered Prop.' The blog, which receives more than 3,000 page views a month, discusses theology and trail information.
"A lot of the short, theological reflections on the website were posed to me over the years on Facebook or via email. People just kind of come to me with their Bible questions," he said.  Cramer said he sees himself first and foremost as a student of the Bible. Once a minister for 11 years and a missionary with his wife Cynthia, he is now working in the jail and prison mission.  He works primarily at the Somerset County Jail teaching Bible studies for the inmates.  "I can walk a block for my mission trips now," he said.  Cramer said he finds this ministry interesting because the questions from the inmates make him search the Bible  and seek out answers.
The love of the outdoors is evident in local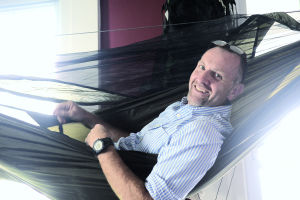 author Dane Cramer's office where he has camping gear set up including a hammock strung from one wall to the other.
Cramer's new faith-based thriller "The Nephilim: A Monster Among Us" is now available.
He said he hopes to continue his ministry work at the jail.
There will be a book signing available for the "The Nephilim" from 11 a.m. to 1 p.m. on Aug. 9 at Young at Heart
Books at Glades Court.
Comments
comments