As with most plans, this one didn't go off without a problem.  As a matter of fact, it was strewn with problems from the very beginning.  Not only did I almost not finish, but I almost didn't begin. It was certainly a trip that became "Rerouted."
Watch the video, "Rerouted."
Months ago, I had picked the dates for my 6th thru hike of the Laurel Highlands Hiking Trail.  I was excited for this fall trip.  Autumn is such a great time to be out in Western PA.  However, the demands of my work schedule, ministry work, and general life "stuff"  kept me so busy that I found little time to prepare.
The day before I was to leave, my wife and I had our house full of people for a Sunday lunch. As the afternoon slid by, and I had to focus on entertaining more than packing, the stress began to mount.  Finally, I began the feverish work of throwing my things together in a brand new pack that I had never used before.  In my haste, I stepped over my gear-jammed office floor and caught my bare foot on something sharp, tearing the skin back on my right big toe.  Great.  I have to walk 70 miles on that foot.
I stopped packing to hold church services at the county jail.  Then, made a last minute trip to Walmart before returning to the frantic job of making sure I had everything I needed for five days in the woods. Instead of becoming part of an enjoyable experience, preparing became a stress-filled event.  I was ready to quit before I began.  In fact, I almost called it off. I was that close.
Monday, Oct 3, 2016
While waiting for my ride, I trimmed my nails and tore a piece of skin from my right index finger.  Great.  I have to walk 70 miles on a cut toe and with a bloody, sore finger. Just great.
My ride arrived punctually at 8:30 am.  Convinced that I had forgotten something, I climbed aboard my friend's truck and we started off.  We reached the RT 56 trail head in Seward by 9:20.  Within 10 minutes, I began my walk.
As I approached the 70 mile marker, I pulled out my video equipment. I had no idea what video theme I was going to shoot for the week since I hadn't had any time to consider it.  In any event, as I tried to get a shot, I discovered that I had indeed forgotten something: my cell phone mounting adapter. It is a small device that allows me to mount a cell phone camera to a tripod.
I whirled around to see if my friend had left in his truck.  I didn't want him to get it for me; I wanted to go home. I was mad. I was about to spend 5 days in the woods without a device that I needed to shoot video.  I didn't even want to hike now.  I wanted to quit.  However, my ride had vanished and I had no choice but to improvise and move forward.
I began the gradual ascent to the ridge top, stewing over everything.  I wanted to cry.  Not only had I packed incorrectly, but I was mentally and emotionally unprepared.  I felt lost.
I reached the ridge and crossed the power line opening without giving much of a glance to the views to my right and left.  Within a short time, I passed the Decker Ave Shelter area.  I paused to get a drink from my water bottle and discovered that the bottle holders of my new pack placed the bottles out of convenient reach. I could get them out, but could barely get them back in without having to take my pack off.  I grunted angrily and kept going.  Looks like I just won't drink much. I was not having a good time yet.
I hit the gas line well and followed the road opening. This section is not inside the woods and can sometimes be hot, dusty, and tiring.  Though reluctant to note anything positive, I was force to recognize that physically I was doing pretty good.  My toe wasn't hurting and my new pack was fitting quite well.  I also felt strong.  But, again, I wasn't going to think about those things. I wasn't done stewing yet.
I soon came across a young man with a young German Shepherd. The dog  became quite exorcised when he saw me, and with restraint his master had to control him. They were also planning a thru hike. We compared itineraries and discovered we had plans of staying at the same shelters all week.
The walk across the ridge to RT 271 went without incident. As is my usual, when I reached Menoher Blvd, I turned left and walked to the RT 271 Parking Lot. The water pump nearly always flows with water, while the pump at the Shelters is nearly always dry.
After topping off water supplies, I hiked into the Shelters. Three of my friends, JoAnn, Tina, & Keith, were already there. They were also thru-hiking, but had started a day earlier than me. Their plan was to stay at every Shelter along the way.
I set up my hammock and then joined JoAnn in her shelter. I helped her get a fire going and we ate dinner together.  The young man and his dog came into camp soon and set up behind us. After dark, two young man strode into camp under the beam of their headlamps.  We visited with them a short while and learned that they were hoping to hike the AT next year, and were doing this hike as a way to test themselves.  They set up camp not far from me.
I soon retired and fell fast asleep.
Tuesday, Oct 4, 2016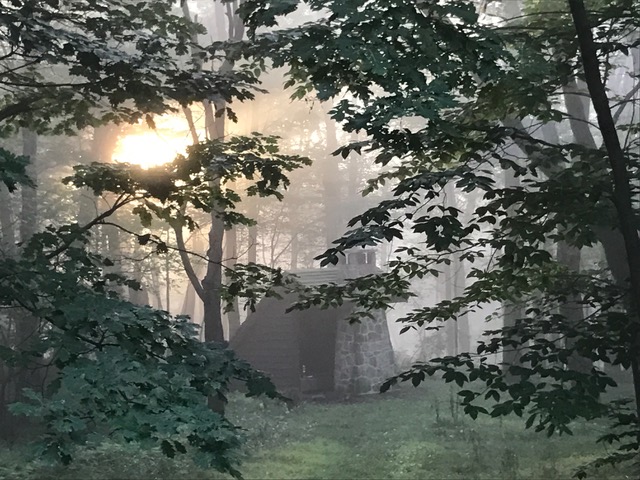 A slightly foggy morning greeted us at the 271 Shelter Area. However, I could hardly notice due to a splitting headache. I knew immediately why: I was dehydrated from stubbornly refusing to drink enough water.
A slightly foggy morning greeted us…
The two young men who had arrived late the night before had had a bad night.  One of them was sleeping in a hammock when the fabric tore.  He had spent the night clinging to what had remained. They also indicated that they did not have a water filter. I agreed to fill a container of water for them at the parking lot pump and leave it as I was exiting. Their plan was to hike out on this day and end their trip.
After breakfast, I walked to the parking lot and filled a gallon container for the duo.  Without realizing it, my thru hike just took a turn for the worse. Unbeknownst to me, I had dropped an essential plug-in tube for my water filter on the ground beside the pump.  More on that later.
The day's hike proved to be better than the one before.  My headache was alleviating and my mood was lifting.
Around mid-morning darker clouds began to assemble.  I stopped for a snack and drink and put on my rain cover.  However, the sky soon cleared.
At lunch time, I rested on one of the wood benches that have been appearing, over the past few years, at various intervals on the LHHT.  As I ate, the young man with the lively German Shepherd approached.  We spoke briefly and they continued south.  After lunch I also continued south and soon passed them as they were eating.  Although he had planned to do a thru hike, I never saw them again.  Evidently, he would decide to pull off of the trail.
Just before reaching the RT 30 Shelters, I passed a man who was day hiking. We spoke briefly before continuing on our respective ways.
Upon reaching the shelter area, I lowered my pack and retrieved my water filter. First order of business was to top off water supplies.  However, as  I put together my filter, I discovered that I did not have the plug-in tube that hooks the filter to the bag of unfiltered water.  After a frantic search, I realized what must have happened: the tube had to be back at the 271 parking lot.
I considered my options. Although I could get water from my friends, who would also be staying at RT 30, I expected to be alone the next several nights.  I sent a text to my wife, who had returned home a little earlier than usual. She had a small window of time before she had to leave again.  With few options, I decided to have her come get me.
My wife picked me up along side RT 30 and took me home to Somerset.  I was quite upset. The trip started badly and now had ended prematurely.  I showered, changed, and drove to RT 271.  There, I found the tube beside the pump.
After returning home, I felt too crestfallen to begin the job of unpacking my backpack. I knew my wife was too busy to transport me back to the trail and so I went to bed feeling mad and upset all at the same time.
Wednesday, Oct 5, 2016
While eating breakfast in my kitchen, I expressed a torrid of emotions to my wife. She matter-of-factually asked why I didn't just bet back out on the trail.  She suggested that I drive myself and then come get my vehicle after she picked me up on Friday.  I have no idea why I didn't think of that.
I shuttled myself to the RT 30 parking lot. I then walked back to the highway – where I had ended my trip, and began walking south again.
During my brief hiatus from the trail, I had exchanged my water bottles for a hydration bag. This allowes me to sip at water through a tube rather than struggle to retrieve the bottles from behind me. I drank a lot more water and felt a lot better.
The walk was generally easy across the ridge top.  I passed below Beam's Rocks, hearing voices from above on this popular hang out, but not pausing to go to the overlook.
During early afternoon, I passed the Turnpike Shelter sign.  My friends, who were behind me, would stay here for the night.  Because it feels so remote, it is one of my favorite shelter areas.  However, it was much too early in the day to stop.
As I approached the Turnpike bridge, I met a middle-aged man and a young girl I supposed to be his daughter. They had parked off of Tunnel Rd, and hiked back to see the bridge.  He told me that he had hunted this area for bear, and heard that a large one had been recently bagged fairly close to where we stood.  After our brief encounter, we parted ways.
Around 4 pm, I reached the RT 31 Shelters. This happens to be my least favorite camping spot on the LHHT.  The noise from the rock cleaning plant located near RT 31 is annoyingly loud.  It also goes on all night.  During the winter months, one can see lights from the facility through the leaf-bare trees.
As I made camp and ate my dinner, I listened to the "beep-beep" of some motorized vehicle backing up somewhere.  It seemed like it never moved forward.
I built a nice fire and had some hot chocolate as darkness invaded the site. No one else arrived.  Around 9 pm, I raised my bear bag up a nearby tree, and retired to my hammock. I was soon out.
Thursday, Oct 6, 2016
Although I arose early, it seems that it always takes me longer than it should to break camp.  It was after 9 am when I finally hit the trail.
The initial walk from the shelter area is a rather steep climb. Fortunately, it doesn't last long. After that, the trail seems to settle down.
By now, my mood had lightened greatly.  I was quite happy to be back on the trail.  The weather was perfect. The leaves weren't as fully clothed in their fall colors as I had hoped, but that didn't matter to me.  It was just good to be walking again.
After crossing County Line Rd, the trail starts taking a turn upward. I began a gradual climb toward the highest point on the LHHT – at Seven Springs.
I walked past the horse stables, but saw no horses.  I then hit the ski slopes and began climbing.  Although the trail currently passes beneath Lake Tahoe, I had designs on stopping there for lunch.
At Lake Tahoe, there is a small lodge that sells food in the winter.  During non-ski season, it's generally vacant. However, it's a good place to stop for lunch. It has restrooms, and one can recharge electrical devices inside the cafeteria.
After finishing lunch, I swung around Lake Tahoe, and returned to the woods. Within a short walk, I began hearing the shotgun blasts from the Seven Springs Shooting Range. The trail goes right by it. I heard the reports of the guns for miles.
I dropped down into Blue Hole and then back up again. Other than that, the LHHT moves along smoothly.  It might be one of the most pleasant places on the trail.  It is wide at many sections, and doesn't drop or climb steeply.
I passed Grindle Ridge Shelter area and kept moving south. Near RT 653, I paused at the Unnamed Cemetary.  I then crossed the small paved road, and within minutes, I was at the Shelter area – my last campsite.
Not long after hanging my hammock, a Park Ranger arrived. He was checking reservations.  We chatted briefly and then he returned to his SUV.
Not long afterward, my buddy Brian (HIkeByFaith) arrived. He was going to camp there for the night and then meander the trail the following day, just taking his time. It was nice to have company again. We talked non-stop, built a fire, and had dinner together.  As he was walking to his tent and me to my hammock, we both heard an owl hoot close by.  I remarked that I always seem to hear an owl at this location.
Friday, Oct 7, 2016
I awoke to footsteps passing nearby. I figured it had to be Brian since he was the only other person in the camp.  When I finally emerged from beneath my tarp, I found that Brian was indeed up. He had also rekindled our fire.  It was very nice to take it its warmth on a cool, autumn day.
After breakfast and gathering our things, we walked to the LHHT together. He was going to return to his car and then slack pack it for the day. I had an 18 mile day ahead of me, and was eager to put some miles on.
I was amazed at the weather that I was enjoying.  It's not often that one can go a whole week in October with no rain.  However, I had heard some chatter the last few days of running into the remnants of Hurricane Matthew that was working its way up the coast.
I paused by a cool stream that flows by a large rock for lunch.  I filtered some water and filled my Gatorade bottle.  That always tastes good – especially with a full day of hiking.
After lunch I crossed Maple Summit Road, which is the last, good take out point before Ohiopyle.  However, I was feeling very good and had to reason to consider getting off of the trail.
A few miles later I crossed the breast of Twin Lakes dam.  It was a picture perfect place. The water was still, and there was no one around to cause a disturbance of noise.  Perfect.
The final miles breezed by.  In no time at all, I had hit single digit miles.  Nine, eight, seven, six… they just flowed past.
At mile three, I paused at the overlook at Victoria.  A man and woman were sitting quietly on the rock outcrop.  I then continued south and passed a few hikers.  Some of them were heading to the Bidwell Shelters for the night, some were just out for a few miles.
The sky grew darker and it was obvious that rain was coming.  As I stepped off of the trail, it began to rain.  The last 50 yards were through a soaking rain that left me chilled.  I entered Wilderness Voyagers store and bought a Gatoraid. I then sat out on the side deck waiting for my wife to pick me up.  I was good again.
Comments
comments