For as much as I enjoy backpacking, one would think that I would engage in the activity more than I do.  But I'm guessing that very few of us actually have opportunity to do the things we love as much as we'd like to.  I guess that's how life is.
This summer I had really hoped to get out to the woods, do some exploring, and spend some nights sleeping in my hammock.  That never happened.  Things just got too busy.  Finally, as October rolled around I felt that if I didn't get out soon that I wouldn't get out at all. So, as a rather last-minute trip, I packed my bag and made reservations to spend 5 days and 4 nights on the LHHT.
Monday, Oct 12, 2015 (Seward to RT 271)
My wife drove me to the northern terminus of the LHHT in Seward, PA.  She was on her way to work and so she didn't stay with me very long.  Sitting beside my backpack, I watched her drive off, and suddenly I was alone.  But "alone" is exactly what I had come out here to be.  I am very much at home alone.
Around 9 am I pushed off on the trail. My plan was to walk the 70 miles to Ohiopyle, PA.  My wife would be picking me up on Friday night.
The first three miles of the northern section take the hiker on a gradual climb to the ridge top.  I've never found it particularly difficult to walk.  However, as I would do three times on this trip, I found it difficult to pay attention.  While focusing on setting up my camera, I managed to wander off the trail near the top of the ridge onto what appeared to be an ATV path.  I was surprised as to how far I had walked before discovering that I was lost.  I retreated and took up my hike along the yellow blazes.
I encountered a late-middle aged man about an hour after I began.  He was out for a morning stroll and was returning to his car.  He indicated that he routinely hikes this section and was particularly enjoying the fall colors.  Indeed. The colors were brilliant in the morning sun.
During my ascent, I felt a pull in the back of my left knee.  This would plague me the rest of my trip, growing a bit more painful each day.  More on that later.
At around noon I reached the Decker Ave Shelters. I decided to have lunch and rest for a few minutes.  I also decided to top off my water supply since the next water source wasn't for another 10 miles.
As I was leaving the area, I saw a man standing just outside one of the shelters.  We waved but didn't speak to one another.  Soon, I encountered two men doing some trail running. They would be the last people I would see for days.
The afternoon rolled by.  I encountered only mild elevation changes.  I was hiking with trail running shoes instead of hiking boots – which was a first for me.  My feet felt lighter and I didn't tire as quickly.
When I reached RT 271, I made a wrong choice. I decided to hike back to the Shelter area without topping off my water in the parking lot.  I thought the recent rains would have been sufficient to replenish the water supply at the hand pump.  I was wrong.  The hand pump was dry and the tiny spring running through camp was insufficent.  Therefore, after walking 14 miles of trail, I had to make the 1 mile, round trip to the parking lot for water.  I won't make that mistake again.
After setting up my hammock, I made a fire in one of the fire rings and then had dinner.  No one came into camp that night.  It was a peaceful evening.
Tuesday, Oct 13, 2015 (RT 271 to RT 30)
Overnight temperatures fell into the low 40s.  A light rain had dampened everything but my spirits. I had remained quite snug in my hammock.  Crawling out into the cool air was difficult.  I also had a bit of a headache, which responded nicely to some Ibuprofen.
I didn't leave camp until around 9 am.  Unbeknownst to me at the time, I had left my tent stakes in the ground after rolling up my tarp.
I followed the ridge of Laurel Hill.  The path was often marked by brightly colored leaves,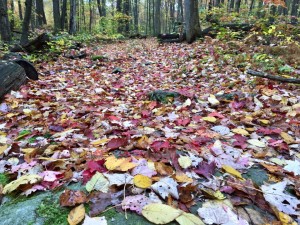 which seem to joyfully decorate the forest floor. Although the sun remained hidden most of the day behind cloudy skies, it was still a glorious day to be out.
I enjoyed lunch in an area that "Loco Rain Drops" calls "the Dead Zone."  It is a section of forest that had been sprayed in order to control the ferns.  This small area is marked by dead and dying plants and trees.  It has a desolate feel to it.  However, within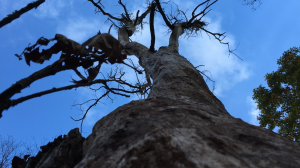 a few years the natural progression of the forest will likely reclaim it so that one day I will hardly recall the way it looked today.
I vacillated between cool breezes, which chilled me, to sun warmed spots that caused me to sweat profusely.  But the colors around me never waned.
At around 2:30 pm, I reached the RT 30 Shelters.  I briefly entertained the idea of pushing on to the Turnpike Shelters, which lay just another 8 miles away. However, the skies were threatening rain and I didn't feel like finishing my day wet.  So I began setting up camp. Soon, the clouds above me broke and a heavy rain began to fall.  However, I had been able to get my tarp up in time and keep everything dry.
I had been hard-pressing the batteries of my GoPro camera and felt that I needed to recharge them.  So, after camp was set up and the rain slowed, I walked to Walat's Bar along RT 30.  Walat's is a well-known eatery to hikers of the LHHT.  Their sandwiches are generously made and are especially welcomed to those who want a break from camp food.  I popped in and bought a burger and fries. For as hungry a I was, I still couldn't finish the meal due to its size.  While I ate, my  GoPro and phone remained plugged in at the other side of the bar.
I returned to camp before dark and made a small fire to keep me company.  For the rest of the evening I rested and enjoyed the solitude.
Wednesday, Oct 14, 2015 (RT 30 to RT 31)
I left camp by 8:30 am.  Today would be a 14 mile hike to the RT 31 Shelters.  Other than the final ascent into the the shelter area, there would be little altitude change.
Within minutes I crossed RT 30 and continued my trek through the woods,  This section of the trail leads through some very cool areas.  Tall rhododendrons border closely in some areas, only to be replaced by rocky walls in others.  My hike also led me through an area that I call The Sanctuary.  This is an area marked by evergreen trees and Mountain Laurel.  The trail is carpeted by pine needles, making for a cushy, quiet walk.  It always feels so peaceful to walk through the section.  I always get the sense that I'm passing through a holy place – a sanctuary – as I pass through.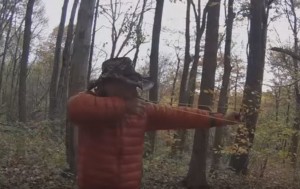 Lunchtime was spent in Shelter #1 at the Turnpike Shelters.  As I ate my lunch there I recalled last winter when I had snowshoed in and spent the night as temperatures hoovered around 0 degrees.  Whether it was that memory, or the cool breeze of this autumn day, I had to put on my down jacket.  After lunch, I got out my sling shot and practiced some shooting before returning to the trail.
While getting things ready to return to the trail, I discovered that my GoPro was no longer booting up.  Try as I might, I was unable to revive it during the remainder of this hike.  My iPhone would have to assume the responsibility for shooting the video.
I arrived to the RT 31 Shelters just before 4:30 pm.  I hadn't encountered anyone on the trail and no one would stop by all night.  Another quiet night of pure solitude.  Just what the doctor ordered.
Setting up camp also involved whittling tent stakes.  It didn't take long,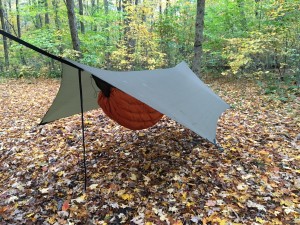 however, and I had my hammock hanging securely beneath a tightly stretched tarp.  I built a small fire and had dinner on the shelter floor.  As night fell, I watched the fire lick at the stone fireplace and listened to it crackle a familiar tune.  I stayed up a little longer than usual, but by 9 pm was finding my sweet spot in the hammock.  I was out like a light.
Thursday, Oct 15, 2015 (RT 31 to RT 653)
After a hot breakfast, my shoes found the trail before 8:30.  It would be another 14 mile day.  My trek would lead me to the highest point of the LHHT, at Seven Springs Resort.  Although I wouldn't speak with anyone, I would have my first "human" sighting in several days as I crossed the ski slopes.
As is my routine on the LHHT, I stopped in at the lodge located near Lake Tahoe on Seven Springs property.  I ate my lunch there and recharged all batteries.  Sunshine greeted me as I returned to the trail and kept me warm as I moved southward.
From Seven Springs, the LHHT dips down into Blue Hole and then climbs out.  Other than that short exertion, the walk was easy.  I stopped briefly on Bear Rocks, which overlooks Middle Fork to enjoy both the view and the sun.
After returning to the trail, it didn't take long to reach the 653 Shelters.  I was relieved to encounter other hikers.  The pain in the back of my knee was really starting to flare up and my Ibuprofen supply was running low.  Two ladies had made camp in the first shelter off the trail.  They generously resupplied me with some "Vitamin I."  I am convinced that I could not have made the rest of the trip without them.  As much as I appreciate being alone, I am reminded that I should not stray too far from the company of others.
I set up camp on a hillside in an area that is inhospitable to tents due to its incline and rocky texture.  Soon, my neighbors stopped by to look at my hammock.  I gave them a quick tour and let them sit in it.  Both were experienced hikers and had been looking to buy a tent.  However, after looking at the hammock, it seemed they were inclined to explore it as a possibility.
I made a small fire but let it burn out as bedtime neared.  The stars lit up the clear, night sky.  Later that night, an owl awoke me with its hooting.  I recalled hearing an owl at this location on my last visit.  Perhaps this is the place to be for owls.
Friday, Oct 16, 2015 (RT 653 to Ohiopyle)
Just after 2 am a heavy rain began to fall.  its patter on my tarp awoke me.  I snuggled deeper in my top quilt and lay listening.  It was a beautiful sound.  After a few minutes I saw lights coming from the shelter where my two, new friends were staying.  Apparently, the rain had awoken them, too.
Just as sunlight was beginning to creep into the forest I began to stir.  Today would be my longest day (18 miles) and I wanted to get an early start.  I ate my breakfast while packing my things.  I then took the maximum dosage of the Ibuprofen before setting off.  I had some concerns about my leg in consideration of the miles I had planned on hiking.  If my leg didn't hold out then Plan B was to stop at Maple Summit Road, located at around mile 11.  However, once I pressed southward from that access point I knew that getting picked up would be much more difficult.
I was off at around 8 am.  I spoke briefly with the two ladies in the shelter. They would be following me, but stopping at the Bidwell Shelters, located at mile 6.
The morning's rain had chilled the air. The sun, however, fought to get above the low-hanging clouds, and soon I felt its warmth.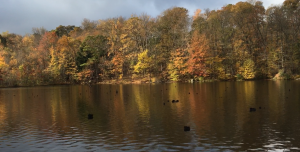 I soon reached one of my favorite spots: Twin Lakes.  It is a quiet, wooded area that tightly  hugs two, tiny man-made lakes.  The LHHT wraps around two sides of the lower lake, offering a good view of the water. As sunlight poured across the scene I became spectator to a glorious show of colors. I soaked it up.
In what seemed no time at all I reached Maple Summit Road. There would be no question what I would do.  Any pain in my leg was quickly overcome by anticipation and excitement.  I would finish this hike.
I confidently crossed the road and reentered the woods.  I knew some of the most difficult hiking lay ahead of me.  However, my pack weight was down and my spirits were lifting.
At around mile 8 I reached the view overlooking Sugarloaf Knob.  I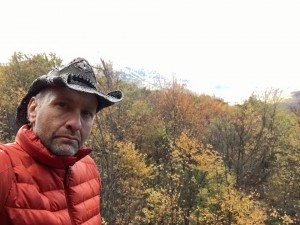 dropped my pack and was forced by the breeze to don my down jacket. I sat on the rocks and ate my last lunch.  A few candy bars were reserved for an afternoon snack.
The excitement of finishing my thru hike prodded me to quickly finish my lunch and return to the trail.  I then began the descent of Heart Attack Hill.  This is a very steep hill that descends for over a mile. It can easily grind knees as gravity helps push the hiker down.  I was careful, but still felt its punishment on my left leg.  More Ibuprofen was administered.
When I reached the Bidwell Shelters I filtered some water for the last leg of my journey.  I then pushed off as the sun grew warmer and the day seemed cheerier.
Soon, I began to encounter hikers moving northward. Some I spoke with while others just passed by with a nod.  The nice weather and coming weekend were apparently prodding many to find the trail.
I had hoped to get some nice fall pictures of the view overlooking Victoria – probably the most scenic view of the entire trail. However, when I reached it I found it crowded with a group of children and some adults.  I paused, hoping they would let me step past them to the rocky perch.  However, they didn't even acknowledge my presence.  Instead, I had to step around them as they were spread out everywhere – including the trail I was walking.  I was not a little irritated.  Though glad that they were being introduced to the outdoors, I was upset that the adults in the group weren't teaching them any etiquette.  They were unfriendly and inconsiderate.  I wanted to put distance between them and me and so I kept descending the ridge.
During the final two miles, electric-like shocks of pain were beginning to shoot down the back of my leg.  It was definitely time to quit the hike.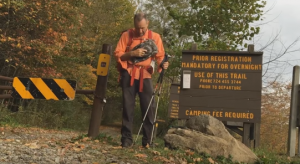 Reaching the southern terminus of the trail, I paused to give God thanks.  I thanked Him for the beauty of His world and for the health and strength to enjoy it.  None of these should ever be taken for granted.
My wife brought toiletries and some clean clothes. I showered at Wilderness Voyagers' bathhouse and we had dinner together in a nearby tavern.
It was a good 5 days, 4 nights, and 70 miles.
peace,
dane
Dane Cramer is a backpacker, Christian blogger, jail chaplain, amateur filmmaker, and author of two books: Romancing the Trail and The Nephilim: A Monster Among Us
Comments
comments