What's not to love about the Sawyer Mini Squeeze filter?  Well, for one
thing, the provided "dirty" water bladder isn't very convenient.  The bladder is designed to be attached to the filter so that the water can be squeezed through it.  However, the opening of the bladder is around an inch wide.  One must either submerse the bag in the water or pour water into it from a cup.  In my opinion, neither option is convenient or mess-free.
After using the Sawyer Mini a few times I began looking for a better way to collect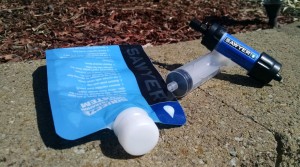 unfiltered water into the bladder.  Both Platypus and Camel Bak make wide mouth bladders that would work. However, both of these are in the $30 range.  That's too much money just for a dirty water bag.
Eventually, I found the BONL water bladder. When I purchased it from Amazon it was under $17. Click this link to find the bladder.
The BONL has a wide-mouth opening that can be crimped shut with a plastic guide that can also be used as a handle.  This features allows you to capture 2 liters of water in the bag and then easily carry it to your campsite for filtering.  The handle also allows you to hang the bag on a branch while filtering.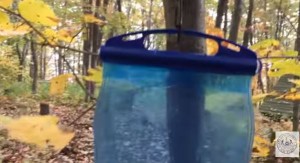 To use the BONL I simply removed the bite valve from the end of the plastic hose. The hose then fit tightly onto the Sawyer.  One could also cut the hose in half and place the filter "in line."  However, care would have to be taken in the field not to place a dirty hose on the clean end of the filter.
I used the BONL on a 5-day backpacking trip. It worked fine in conjunction with the Sawyer. The bag can be squeezed to force water through the filter.  Or, one can just let gravity do its work – at a much slower rate.  The addition of the BONL and hose took my water filtration kit to a total of 8 oz.
So far the BONL has done the trick.  The wide mouth allows me to easily fill the bag with unfiltered water and carry it to my camp site for filtering.
If you have modified your Sawyer in a different way, please let me know!
peace,
dane
Dane Cramer is a backpacker, Christian blogger, jail chaplain, amateur filmmaker, and author of two books: Romancing the Trail and The Nephilim: A Monster Among Us
Comments
comments